---
| | |
| --- | --- |
| Sunday, February 23, 2003 | |
---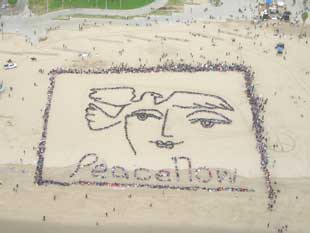 Lots of pictures from the peace protests last week. Above is a picture from the air from the beach here in Santa Monica. I woke up too late to make it, unfortunately.
[ Inspiration | 2003-02-23 23:59 | | PermaLink ] More >


---
| | |
| --- | --- |
| Friday, February 21, 2003 | |
---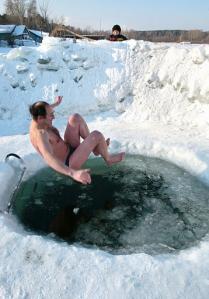 Something opens our wings.
Something makes boredom and hurt disappear.
Someone fills the cup in front of us.
We taste only sacredness. --Rumi



The picture: "A man jumps into an ice-hole at the lake Shartash in the Ural city of Yekaterinburg, about 900 miles east of Moscow, Friday, Feb. 21, 2003. The temperature in Yekaterinburg was minus 15 degrees Celsius (5 degrees Fahrenheit) on Friday. (AP Photo/ Ural Press Photo, Alexei Vladykin)" (From Yahoo)
[ Inspiration | 2003-02-21 23:59 | | PermaLink ] More >


---
| | |
| --- | --- |
| Monday, February 17, 2003 | |
---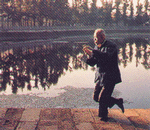 Keep walking, though there's no place to get to. Don't try to see through the distances.
That's not for human beings. Move within, but don't move the way fear makes you move. --Rumi

[ Inspiration | 2003-02-17 23:59 | | PermaLink ] More >


---
| | |
| --- | --- |
| Sunday, February 16, 2003 | |
---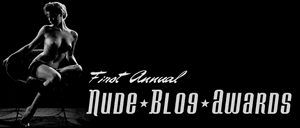 And, to avoid being all stuffy, go vote for the first annual Nude Blog Award, with categories such as 'Nudity in Design', 'Nudist with a Cause', and 'Weblogger we'd like to see nude'.
[ Inspiration | 2003-02-16 23:17 | | PermaLink ] More >


---
| | |
| --- | --- |
| Friday, February 7, 2003 | |
---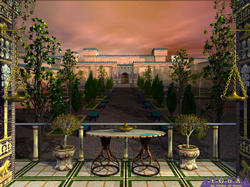 The answer is never the answer.
What's really interesting is the mystery.
If you seek the mystery instead of the answer,
you'll always be seeking.
I've never seen anybody really find the answer -
they think they have, so they stop thinking.
But the job is to seek mystery, evoke mystery,
plant a garden in which strange plants grow and
mysteries bloom.
The need for mystery is greater
than the need for an answer.
--Ken Kesey
[ Inspiration | 2003-02-07 23:59 | | PermaLink ] More >


---
| | |
| --- | --- |
| Wednesday, January 29, 2003 | |
---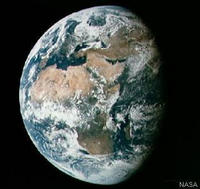 The first Israeli astronaut, Ilan Ramon, is having a good time in space. He said Wednesday from shuttle Columbia that he wishes his homeland — in fact, all of the Middle East — were as quiet and peaceful as it looks from space.
"The world looks marvelous from up here, so peaceful, so wonderful and so fragile."
Great. Maybe they should send up Ariel Sharon next time.
[ Inspiration | 2003-01-29 23:59 | | PermaLink ] More >


---
| | |
| --- | --- |
| Tuesday, January 21, 2003 | |
---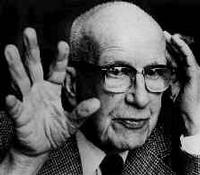 "I live on Earth at present,
and I don't know what I am.
I know that I am not a category.
I am not a thing -- a noun.
I seem to be a verb,
an evolutionary process --
an integral function of the universe."

-- R. Buckminster Fuller

[ Inspiration | 2003-01-21 23:59 | | PermaLink ] More >


---
| | |
| --- | --- |
| Monday, January 20, 2003 | |
---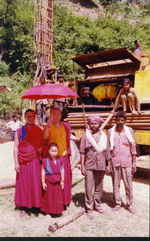 I have a strong agreement with Buckminster Fuller who said things like:
"The things to do are the things that need doing - that YOU see need to be done,
and that noone else seems to see need to be done."
You know, I have the belief that every one of us is here to do something unique. It is not necessarily pre-destined or pre-determined what exactly it is. Probably rather something to discover or invent. But if we don't do something unique, if we don't add our unique perspective and sensibilities to the global soup of life, our life is somewhat wasted and meaningless. It doesn't have to be huge earth shattering things. It might be just a slightly different angle on things, which we impart to the people around us. Something we're present for, which nobody else paid any attention to. But there is for sure something that you can dream, something you can see, and something you can do, which nobody else has quite the same opportunity for. Bucky also says:
"I look for what needs to be done.... After all, that's how the universe designs itself."
Life might seem meaningless unless you realize that you have an important role in co-designing the continued evolution of the universe. There are lots of things to do, so it would be silly to have a meaningless life.
[ Inspiration | 2003-01-20 19:45 | | PermaLink ] More >


---
| | |
| --- | --- |
| Friday, January 17, 2003 | |
---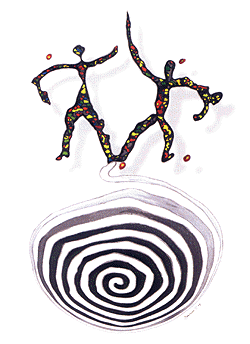 Nobody died, but it is sometimes a good thing to say things while one can. The following was written by Henry Scott Holland on May 15, 1910 and was part of his sermon on death delivered at Westminster while the body of King Edward VII lie in state. And I concur. That would be how I'd prefer looking at death. The fullness of life is eternal, and doesn't really get diminished, just because we die once in a while.
Death is nothing at all. It does not count. I have only slipped away into the next room. Nothing has happened. Everything remains exactly as it was. I am I, and you are you, and the old life that we lived so fondly together is untouched, unchanged. Whatever we were to each other that we are still. Call me by the old familiar name. Speak of me in the easy way which you always used. Put no difference into your tone. Wear no forced air of solemnity or sorrow. Laugh as we always laughed at the little jokes that we enjoyed together. Play, smile, think of me, pray for me. Let my name be ever the household word that it always was. Let it be spoken without an effort, without the ghost of a shadow upon it. Life means all that it ever meant. It is the same as it ever was. There is absolute and unbroken continuity. What is this death but a negligible accident? Why should I be out of mind because I am out of sight? I am but waiting for you, for an interval, somewhere very near, just round the corner. All is well...

[ Inspiration | 2003-01-17 22:26 | | PermaLink ] More >


---
| | |
| --- | --- |
| Sunday, January 12, 2003 | |
---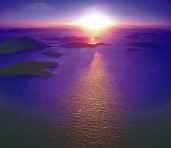 Davide in Italy has been so gracious to translate the "We are the New Civilization" poetic manifesto into Italian. Thanks Davide!! That brings us up to 14 languages: Italian, Spanish, French, Portuguese, Hebrew, Danish, Finnish, German, Russian, Croatian, Slovenian, Esperanto, Interlingua and English. Anybody else? Somebody speak Japanese or Chinese or Korean? Swahili? Sanskrit?
Noi siamo qui.
Noi stiamo camminando ora, fuori dal passato, per sognare un grande sogno.
Noi siamo amici e uguali, noi siamo diversi e unici, e noi siamo uniti per qualcosa di più grande delle nostre differenze.
Noi crediamo nella libertà e nella cooperazione, l'abbondanza e l'armonia.
Noi siamo una cultura emergente, un rinascimento dell'essenza dell'umanità.
Noi cerchiamo la nostra guida personale, e noi distinguiamo la nostra propria verità.
Noi andiamo in molte direzioni, e ancora rifiutiamo di perderci.
Noi abbiamo molti nomi, noi parliamo molte lingue.
Noi siamo locali, noi siamo globali.
Noi siamo in tutte le regioni del mondo, noi siamo da ogni parte nell'aria.
Noi siamo l'universo che si conosce, noi siamo l'onda dell'evoluzione.
Noi siamo in ogni occhio del bambino, noi affrontiamo il non conosciuto con ammirazione e eccitamento.
Noi siamo messaggeri dal futuro, vivendo nel presente.
Noi veniamo dal silenzio, e noi parliamo la nostra verità.
Noi non possiamo essere taciuti, perchè le nostre voci sono con tutti.
Noi non abbiamo nemici, nessuna frontiera può ostacolarci.
Noi rispettiamo i cicli e le espressioni della natura, perchè noi siamo la natura.
Noi non giochiamo per vincere, noi giochiamo per vivere e imparare.
Noi agiamo dall'ispirazione, amore e integrità.
Noi esploriamo, noi scopriamo, noi sentiamo, e noi ridiamo.
Noi stiamo costruendo un mondo che lavora per tutti.
Noi intendiamo vivere le nostre vite per tutto il loro più pieno potenziale.
Noi siamo indipendenti, autosufficienti e responsabili.
Noi reaggiamo reciprocamente nella pace, con compassione e rispetto, noi uniti nella comunità.
Noi celebriamo la salute con e attraverso noi tutti.
Noi danziamo al ritmo di creazione.
Noi parliamo le verità dei nuovi tempi.
Noi siamo la nuova civilizzazione.


[ Inspiration | 2003-01-12 18:48 | | PermaLink ] More >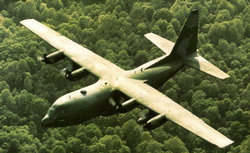 Britt Blaser has a weblog called Escapable Logic - Design Study for a New MicroEconomy, and he writes about many things that interest me greatly. And he's one of those people who write so eloquently and put things so precisely that I sometimes feel like a neanderthal when I go back and look at my own writings. John-Perry Barlow is another person like that. Oh, no great reason to cheer me up, I know that I occasionally manage to say something clear and compelling as well. As to Britt, well, I'm from Denmark, so I would have expected from his name that he'd be a pretty blonde Swedish girl, but he's very much a guy. He's been around, and he's a Viet Nam veteran. Yesterday he talks about the difference between leaders and managers, and he also rants a bit about his resentment against somebody like George Bush, Jr. who belongs to a class where he can put an apparent military career on his resume, without really having to show up much. Managing without leading. I can very much understand that.
"The current manager-in-residence, George II, went through the motions of flying F-102s on training missions with the Texas Air National Guard during the Viet Nam unpleasantness, in a squadron noted for its population of the scions of the Texas elite. (He was admitted to pilot training ahead of a coupla hundred more qualified other rich kids, despite having flunked the entrance exam. As if that weren't little enough, the record seems clear that he was too busy on a political campaign to show up for service when assigned to Alabama for his last year of duty. Can you imagine what Colin Powell, a real soldier, thinks of this guy?

My personal resentment may stem from the fact that I enlisted in the Air Force at the same New Haven office as George, about 3 years earlier. About a week before he enlisted, I was on the C-130 that evacuated the last Marines from Kham Duc Viet Nam (the one before us was shot down on takeoff, killing all 150 souls on board). A month after George started his USAF Adventure Camp, I got shot down at Katum, Viet Nam. The real world has real work to be done. Leaders do that work and teach others. Managers arrange the doing of real work."
And, in case you don't know about Kham Duc, this is from one of the references mentioned:
Although very little has been written about it, the events of May 12, 1968 are among the most heroic of the Vietnam War, in fact of any war. On that day, a handful of American US Air Force C-130 and US Army and Marine helicopter crewmembers literally laid their lives on the line to evacute the defenders of the Civilian Irregular Defense Corps camp at Kham Duc, an outpost just inside the South Vietnamese border with Laos.
I think war is a horrible and often senseless thing, but there is something to say for the guts and courage of those people on the ground or in the air who actually DO sfuff, and who end up putting their lives on the line to save the lives of others. A lot to say.
[ Inspiration | 2003-01-12 16:54 | | PermaLink ] More >


---
| | |
| --- | --- |
| Saturday, January 11, 2003 | |
---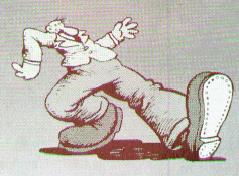 From Walking Meditation:
"This practice is a variation of Vipassana Meditation.

This is a slow, ordinary walk based on awareness of your feet as they touch the ground. You can walk in a circle or in a line. Take ten to fifteen steps, going back and forth, inside or outside. Your eyes should be lowered to the ground, just a few steps ahead.

While walking in Vipassana, one gives attention to the contact of each foot as it touches the ground. When other things arise, simply notice what took your attention and gently return your focus to your walking. It is the same technique as sitting, but for some, the movement is helpful and can be a welcome change.

Try this for twenty minutes, it can result in a deep awareness... "

[ Inspiration | 2003-01-11 15:31 | | PermaLink ] More >


---
| | |
| --- | --- |
| Monday, January 6, 2003 | |
---
I get this stack of computer industry news magazines every week, and the past few months I haven't gotten around to reading them much. And now, reading InfoWorld today, I realize the world changed while I looked the other way. Or, rather, I was looking at where the action was, and now InfoWorld reflects it. This issue is about Disruptive Technologies, and I realize that I know most of the people saying anything important there from their weblogs, or from their friends' weblogs. Excellent frontpage interview with Ray Ozzie by Jon Udell and Steve Gillmor (Dan Gillmor's brother) about Groove and collaborative software. And in other places mentions of Dave Winer, Doc Searls, Tim O'Reilly, Lawrence Lessig, column by Robert Cringely and more. My point being that I read those people's weblogs regularly, and much of the contents of that magazine is what they've been discussing publically between themselves in the past few months. And weblogs have already changed the media world a good deal. A number of people have mentioned that it was quite clear that Trent Lott (former U.S. Senate Majority Leader) was brought down by bloggers, who spread around his racist comments that mainstream media was planning on ignoring.
[ Inspiration | 2003-01-06 20:34 | | PermaLink ] More >


---
| | |
| --- | --- |
| Friday, January 3, 2003 | |
---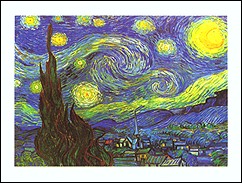 Euan Semple says:
"Some of us believe that God exists, if at all, in all of us. That we are all godlike and have the potential to be at one with the wholeness of experience if we could just get out of our own way.

Others believe that God is elsewhere, a presence outside of our experience which controls all that we do, who will look after us if we do the right thing.

This split drives everything, organisations, society, the web.

We give up responsibility to that force outside ourselves or we take responsibility for ourselves. We conform to socially agreed stereotypes or work out what makes us happy and follow that; we trust the structures set up by others or we trust ourselves; we are drawn to client server or peer to peer, Microsoft or Apple, indoors our outdoors, death or life.

Herendeth the lesson"
I'm hearing, and I think it's true. It seems so simple. But so easily we get lost. I would also expand it to say that it isn't even about God, as many who believe there is no such thing will still put the control outside themselves. The key thing, I think, is whether or not I feel that life has something to do with *me*. I.e. whether or not I feel that my choices really make a difference, and I have a reason and a responsibility to make things good. Versus whether I feel powerless - an insignificant and expendable cog in a huge machinery - and I just do what I can get away with, grabbing up every little advantage I can carve out for myself.
[ Inspiration | 2003-01-03 14:30 | | PermaLink ] More >


---
| | |
| --- | --- |
| Wednesday, January 1, 2003 | |
---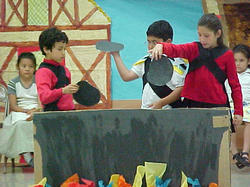 Do you know the old fairy tale about the magical soup stone? It exists in many versions. Like, a Swedish one, a Japanese version, the Shel Silverstein song, and many more. In brief, a mysterious stranger comes to town, and he claims that he has a magical stone that you can cook soup with again and again. Everybody is really incredulous. But, to prove it, he puts it in a pot of boiling water. And the soup cooks, and it is coming along fine, he declares, but, hm... maybe a little bit of spices would make it just a bit better. So, somebody goes and gets him some spices. And the soup is cooking great. The bystanders are fascinated. But... maybe some potatoes and some carots would top it off just great. And the soup is just about done, but, hm... maybe a bit of meat and some flour would just round off the experience really well. And so forth, it goes on like that for a while... And, the villagers are amazed - the most wonderful soup has been cooked, and they have a great feast together, enjoying and celebrating the magical stone soup.

Superficially you might think it is a story about a con artist who tricks people into giving him the ingredients, while he takes the credit, and gets fed for free. But how I find it inspiring is how it is also a great pattern for how to make things happen starting absolutely from scratch. Most particularly, this works well in a very connected virtual world. The thing is that most of the resources and knowledge needed to do anything is available somewhere out there. You don't necessarily have to legally possess it yourself before you get started. Sometimes it just takes somebody who stands up and declares "Let's make soup!" and who keeps the magic going, while people bring resources to the table.

I've seen it a number of times on the Internet. If you sort of hang up a sign and start to publically inquire into a certain subject, the ingredients will start arriving. The people who actually are experts will come out of the woodwork. Knowledge will start to accummulate. Resources will appear. And it often depends on one, or a few people, who keep the magic in the air while things are coming together. They might have nothing but the idea or the desire to start with. But people will bring what is missing, and along the way there is plenty of opportunity for becoming an expert in soup.

But it doesn't work without the magical soup stone. People, expertise and resources don't necessarily come together by themselves, without a strong continuous intention and a bit of showey magic. It takes a catalyst.
[ Inspiration | 2003-01-01 18:12 | | PermaLink ] More >


---
| | |
| --- | --- |
| Tuesday, December 31, 2002 | |
---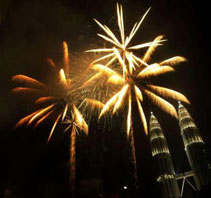 May 2003 be gloriously new and different, and may the best of your dreams come real in surprising ways!


"Far better to dare mighty things, to win glorious triumphs, though checkered by failure, than to take rank with those poor spirits who live in the gray twilight that knows not victory nor defeat." -- Theodore Roosevelt

[ Inspiration | 2002-12-31 17:45 | | PermaLink ] More >


---
| | |
| --- | --- |
| Monday, December 30, 2002 | |
---

"You keep lyin' when you oughta be truthin'
You keep losing when you oughta not bet
You keep samin' when you oughta be a'changin'
What's right is right but you ain't been right yet

These boots are made for walking
And that's just what they'll do
One of these days
These boots are gonna walk all over you ..."
--Nancy Sinatra

[ Inspiration | 2002-12-30 23:59 | | PermaLink ] More >


---
| | |
| --- | --- |
| Thursday, December 26, 2002 | |
---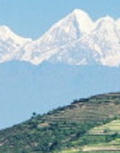 Bawani, a small village in the Himalayas got transformed into an eco-village through better watershed management, by seeding different kinds of grass, and by learning to do things in different ways. Read the story. Everybody chipped in and worked as a collective to help make it happen, with some outside guidance. Now they no longer have to walk many miles for fodder for animals or wood for fuel, and they can grow fruit and vegetables next to their homes.
[ Inspiration | 2002-12-26 04:55 | | PermaLink ] More >


---
| | |
| --- | --- |
| Sunday, December 22, 2002 | |
---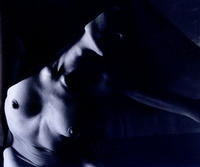 The photo on the right is by Leonard Nimoy, aka Mr. Spock. Arcticle on salon.com about his love for photographing naked women.

But that wasn't really my point. I'm trying to practice thinking like an entrepeneurial capitalist, so I'm looking for grassroots things people do to set up businesses. If you go to Google and look up "naked women", the first site you get is this site, which has no naked women at all, but it is a little joke page, with a button you can't quite seem to get to click on. And the programmer's page is linked in small print way at the bottom. My point is, he's probably making good business just from that one little link.

But it is better to do something actually useful. See Gizmodo. It is a site for gadget freaks. Everything cool and new in electronic gizmos, information and reviews, in a pleasant and neutral format. But there are some links for being able to buy some of the stuff too. From what I hear those guys are doing well with that. On the order of paying somebody $1K/month for doing writing, and bringing in $5K/month in commissions from the online stores they send people to. Perfect. Everybody's happy.

Several people figured out that they could make a list of the top books mentioned most often in the thousands of weblogs updated recently. Nice service. Shows where people's attention are. But it is also a great little way of making some extra money without anybody having any problem with it. See, the people who compile those lists (using automated programs) will also add their own amazon.com affiliate code to all the links, which means they will get a percentage of any purchases of those books. That certainly doesn't bother anybody.

I use that too if I link to books at Amazon. So, if you right now go and pre-order your new Segway Scooter for 2003 delivery, I'll get a nice commission. Order one for me too now you're at it.
[ Inspiration | 2002-12-22 23:56 | | PermaLink ] More >


---
| | |
| --- | --- |
| Wednesday, December 18, 2002 | |
---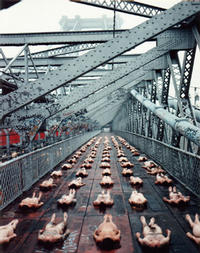 I was watching a documentary on HBO about this artist Spencer Tunick who has been traveling America and the world, photographing nude people in unusual settings and arrangements. Now, what was very refreshing and inspiring about that is that there is nothing lewd or even tintilating about how he does it. It is very normal people, not picked based on any standard of physical beauty, but mainly based on that they're real people that one meets on the street. And there is something very powerful and beautiful that comes from that. Besides being art, and performance art, it is activism. It is activism asking us to look at things a bit differently, and breaking through stupid bourgeois norms for what is proper and expected.
[ Inspiration | 2002-12-18 16:25 | | PermaLink ] More >




<< Newer stories Page: 1 2 3 4 5 6 7 8 9 Older stories >>