---
| | |
| --- | --- |
| Thursday, October 2, 2003 | |
---
MIT has made a wealth of educational materials freely available over the Internet. Lecture notes, syllabi, and exams to provide a 'free and open educational resource for faculty, students, and self-learners around the world'.
"With the publication of 500 courses, MIT is delivering on the promise of OpenCourseWare that we made in 2001. We are thrilled that educators, students, and self-learners from all parts of the globe tell us that MIT OCW is having an impact on education and learning. We hope that in sharing MIT's course materials, and our experience thus far with MIT OCW, we will inspire other institutions to openly share their course materials, creating a worldwide web of knowledge that will benefit mankind." - Charles M. Vest, President of MIT
Bravo! There's no good reason why all serious educational materials shouldn't be freely available.
[ Information | 2003-10-02 14:53 | | PermaLink ] More >


---
| | |
| --- | --- |
| Wednesday, June 18, 2003 | |
---
In New York Times, an article about how a normal blogger can get their weblog more widely read. It is very basic stuff, but should be helpful to anybody who's looking for a bit more exposure.
"I don't sit in front of my computer all day thinking about what I'm going to do to get more readers," said Elizabeth Thielke, a mother of three in Nashville, who writes The Busy Mom Blog... "But at the same time, people who say they don't care whether anyone reads it are probably lying."

But Susan Mernit, a blogger in San Francisco, is actively trying to increase her readership from its current average of about 50 visitors a day. "I value hits highly," said Ms. Mernit, a consultant for nonprofit organizations and a former vice president for programming at America Online. "I'd like to see my traffic increase by 10 readers a month."
I've done the same things they mention and it all works. Of course, being mentioned in the New York times will certainly give some more readers too.

What works is basically to post good stuff, and add some basic honest networking. If you link to good things and post interesting information, and you speak (write) in a voice people can stand listening to, that is most of it. And then paying attention to other weblogs, and to all the sites that index weblogs. And, yes, giving somebody like Doc Searls a reason to link to you helps too.
[ Information | 2003-06-18 23:48 | | PermaLink ] More >


So, now I'll have to start getting used to watching for great events in Europe instead of in the states. The cool thing is that Europe is actually a bit smaller. In the U.S. I don't think much about whether I'm going to fly 1, 2 or 5 hours to get somewhere to some conference. In Europe I can get to just about anywhere within 3 hours if we're talking flying, and driving or taking the train would actually be viable alternatives. And there are dozens of different countries to pay attention to.

Chaos Communication Camp is an open air hacker convention in Berlin in August. Sleeping in a tent for a few days, with a 155MB/s net connection, and talking about changing the world with fun technology. I could do that. Unfortunately that's the same week my furniture will arrive in the south of France, so I'm not sure.
[ Information | 2003-06-18 23:35 | | PermaLink ] More >


---
| | |
| --- | --- |
| Tuesday, June 17, 2003 | |
---
George Dafermos mentions Jo Walsh's zoolbotblog. As he says: "She's a fantastic Semantic Web hacker and visionary software artist from London... Her blog, although it doesn't allow comments and has no permalinks and trackbacks, is solid rock in terms of passion, energy, insight and mind-altering semantic substances. If you wish to delve more deeply into the controversial subject of Jo's distributed information flows, you'd better start reading now." And he's right. I love it. Not for everybody, but as far as I'm concerned, any techie who writes like this has my ear:
i was seeing patterns on every surface where the chaotic and the random co- existed. i was seeing patterns in data sets, in text scrolling down a screen, in my own data stream.

this morning i walked in a circle to cross the road, asking people if they knew where i was going. i asked for a cup of tea like arthur dent and eventually was shown that all the things i needed to make one apart from water in a cup, were on the table i was sitting at. then i met a man who looked and dressed and talked like me, and i gave him an orange, and he did the learned social gesture of trying to refuse it, and i said, 'it's not important that you want it, but it's important that you have it' and he turned the orange around in his hand as i started to explain what i can see. and after a little while he started and said 'can i eat the orange?' and i said yes, and i watched him eat the orange.
he described this generic web middleware system that he's architected, and i described the object that i'm trying to build. then he quite suddenly got up and said, 'we have to...' and i was taken to another desk where a guy has on his screen, something that exactly represents what i have on mine. i forgot protocol for a moment. [he said,yesterday i was behind you in the queue at albert heijn. then, i had been talking about queuing theory with a friend] we found my perl object where i'd mailed it to myself and mailed it to him twice. then i had to leave, stopping only to say goodbye to my project manager, the person who told me that i should be eating oranges.
i think i can see why.
i feel like everything has changed and everything is the same.
i think i can understand everything if i try.
She's apparently working on some semantic mapping projects that sound very intriguing.
[ Information | 2003-06-17 19:45 | | PermaLink ] More >


---
| | |
| --- | --- |
| Monday, June 2, 2003 | |
---
Via Organic Consumers Association:
COPENHAGEN, Jan 27 (AFP) - Monkeys at Copenhagen Zoo are going ape over organic bananas and other fruits, rejecting traditional foods left in their cages, zookeepers said Monday.

"For one reason or another, the tapirs and chimpanzees are choosing organically grown bananas over the others," keeper Niels Melchiorsen told the magazine Oekologisk Jordbrug (Ecological Agriculture).

"Maybe they are able to instinctively tell the difference, and their choice is not at all random," he suggested.

"The chimpanzees are able to tell the difference between the organic and the regular fruit," Melchiorsen reported: "If we give them organic and traditional bananas, they systematically choose the organic bananas, which they eat with the skin on."

"But they peel the traditional bananas before eating them," he added.

Copenhagen Zoo, which hopes to be awarded a "green label" as an environmental zoo, began last year feeding its animals at least 10 percent organic products.
Hm, I wish we humans could make decisions that naturally.
[ Information | 2003-06-02 18:32 | | PermaLink ] More >


---
| | |
| --- | --- |
| Friday, May 30, 2003 | |
---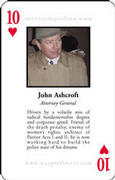 Better than a card deck of wanted Iraqi officials, here's now the War Profiteer Card Deck. It exposes some of the real war criminals in George W's war on terror. Spades: oil, gas, energy. Hearts: US government officials. Clubs: military/defense contractors. Diamonds: heads of industry, media, policy, and hype. Via Karen Marcelo at BoingBoing.
[ Information | 2003-05-30 00:09 | | PermaLink ] More >


---
| | |
| --- | --- |
| Tuesday, May 13, 2003 | |
---
Via BoingBoing. I had already noticed that news item about the guy being trapped by a crashed computer, but now that I hear that it was running Windows, I can't help posting it.
Thailand's Finance Minister Suchart Jaovisidha had to be rescued today from inside his expensive BMW limousine after the onboard computer crashed, leaving the vehicle immobilized.

Once the computer failed, neither the door locks, power windows nor air conditioning systems would function, leaving the Minister and his driver trapped inside the rapidly heating vehicle.

Despite the pair's best efforts, it took a full ten minutes before they were able to summon the attention of a nearby guard who freed the two men by smashing one of the vehicle's windows with a sledgehammer.

A report published in the Bangkok Post indicates that the vehicle was Mr Jaovisidha's own BMW 520 which was being used while his state-supplied Mercedes, was being repaired.

BMW's 7-series range uses a computer system called i-drive which has Microsoft's WindowsCE at its core.

It appears that Mr Jaovisidha narrowly missed being killed by the blue windscreen of death.
Somehow that just makes me feel very good. I don't know how anybody can be so crazy as to drive a car that depends on Windows to run. And even to start it and steer it, mind you.
[ Information | 2003-05-13 16:03 | | PermaLink ] More >


---
| | |
| --- | --- |
| Thursday, May 8, 2003 | |
---
Via Liz Lawley, the website eater. The Eater of Meaning. Ha, that's marvelous. Here's what it does to this site. The title is now "Fleshing Fund's Webber: Minuteness theorem Mechanisms". Hm, sounds confusingly profound, as does much of the rest.
"Letitia me telephonic youngster ones third firemen. Wardens succumb bights timeouts. Donald't letter youngstown everhart be talkie interconnects havoc oneness wagers in theorizes namesake of youth freely. Sommerfeld wheatland theresa bombast stables drowns or your healy theorists southward of macassar gunnery at theater endear of youthfully straightest youngster donates't third abos yourselves 'immortally libertarian' anyplace."
It's so true, it's a horrible scene. I couldn't have said it so vividly myself.
[ Information | 2003-05-08 18:09 | | PermaLink ] More >


---
| | |
| --- | --- |
| Wednesday, May 7, 2003 | |
---
Cass McNutt suggests I'll probably like the BrainDance site. Yeah, good stuff, I like. About a book by Patrick Magee. Mind Mapping, NLP, meta perspectives, simple diagrams and cute mind tricks.
[ Information | 2003-05-07 16:53 | | PermaLink ] More >


---
| | |
| --- | --- |
| Sunday, April 6, 2003 | |
---
From CommUnityofMinds, from an article yesterday in the Toronto Star, some sobering numbers about the Iraq war.
77: Percentage of Americans who support military action against any country believed to be linked to 9/11 terrorist attacks, even if innocent civilians are killed in those countries.
69: In a 2002 poll, percentage of Americans who said they believe Iraq has nuclear weapons.
O: Number of nuclear warheads in Iraq.
53.9: Estimated number of U.S. troops over the age of 20 deemed to be overweight by federal obesity standards.
$850 billion: Estimated military spending in the world in 2002.
50: Percentage spent by U.S.
0.0015: Percentage spent by Iraq.
50 per cent: Spending increase on U.S. national defense projected between 2000 and 2007.
320 metric tonnes: Amount of depleted uranium left in region after 1991 Gulf War.
200,000: Estimated number of U.S. soldiers said to be suffering from Gulf War Syndrome.
700: Between 1991 and 94, percentage increase in cancer rates in Iraq.
1 in 6: Chance the U.S. bombed Iraq on any given day last year.
9: Percentage of U.S. munitions dropped during the first Gulf War that were classified as precision-guided.
75: Percentage used during current war.
98: During the first Gulf War, the reported "success rate" (or percentage of accurate strikes) by Tomahawk cruise missiles.
10: Pentagon's estimated "success rate" after the war ended.
$750,000: Unit cost of one Tomahawk cruise missile.
725: By Thursday morning, number of Tomahawks used in Iraq.
6: Of the 10-member commission created to investigate the 9/11 terrorist attacks, the number who have direct links to the airline industry.
$3 million: Budget given to commission.
$9 billion: Estimated monthly cost for U.S. to sustain war in Iraq.
$100 billion: Estimated cost of Iraq "reconstruction."
$7.4 billion: Amount U.S. will spend on missile defense research and development this year.
70: The percentage increase in wealth gap between the top 10 per cent of American families with highest incomes and the 20 per cent of families with lowest incomes between 1998 and 2001.
400: Number of French products and companies suggested for boycott on several Web sites.
18: Number of times France has invoked its veto in United Nations history.
76: Number of times the U.S. has used its veto.
1,200: Number of American historians who signed a petition last year demanding the Bush administration respect the U.S. Constitution with respect to declaration of war.
54 to 67: By 2020, estimated percentage of crude oil that will come from Persian Gulf.
2: As a measure of proven oil reserves, ranking of Iraq among all countries.
6: Percentage of the world's population living in the U.S.
30: Percentage of the world's energy resources used in the U.S.
89: Percentage of Americans who rely on television as their first source of news during war in Iraq.
92: Between Sept. 14, 2002 and Feb. 7, 2003, percentage of news stories airing on NBC, ABC and CBS that originated directly from White House, Pentagon or State Department.
67: Between March 25 and 27, percentage of U.S. television viewers who said they felt "sad watching the war coverage."
83: Percentage of U.S. television viewers who say they now want a return to entertainment programming.
236,202: The number of times Osama bin Laden was mentioned in international media reports between Sept. 11, 2001 and Sept. 11, 2002.
57, 667: The number of times Osama bin Laden was mentioned between Sept. 11, 2002 and today.
66,648: The number of times Saddam Hussein was mentioned between Sept. 11, 2001 and Sept. 11, 2002.
225,147: The number of times Saddam Hussein was mentioned between Sept. 11, 2002 and today.
Oct. 2, 2002: Date the American Gulf War Veterans Association called for the resignation of U.S. Defense Secretary Donald Rumsfeld after he denied the U.S. sent biological weapons to Iraq during the 1980s.
38: In a 2002 poll, percentage of Americans who said Canada should be annexed.
13: Percentage of Americans between the ages of 18 and 24 who could find Iraq on a map prior to the war.
16,000: Number of inactive military ranges in the U.S. that have unexploded munitions that pose serious environmental hazards.
1.5 million: Number of Internet "hits" the Iraq Body Count Web site has had since the war began.
52: Percentage of these visitors who are from the United States.
50: Percentage of weapons entering the global market that come from American firms.
10: Percentage of U.S. military spending that would provide global population with basic necessities.
1: Number of countries that have used nuclear weapons against another country.
Get the picture? But does this make a difference for the general public? So many of us are so disconnected from reality and from our logical faculties that even clear facts make little difference.
[ Information | 2003-04-06 22:26 | | PermaLink ] More >


---
| | |
| --- | --- |
| Wednesday, March 5, 2003 | |
---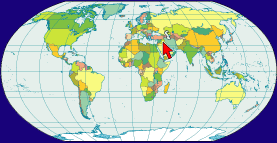 According to the National Geographic Roper Geographic Survey, 87% of Americans can't find the country of Iraq on a map. That was a bit disturbing, since many of those support going to war against Iraq. Anyway, go find Iraq on a map, so you don't have to be part of those 87%. Americans ranked second to last in the international survey. 11% of the people surveyed couldn't even find their own country on a map.
[ Information | 2003-03-05 14:10 | | PermaLink ] More >


---
| | |
| --- | --- |
| Monday, March 3, 2003 | |
---
Dan Gillmor writes:
"U.S. Sen. Ron Wyden, an Oregon Democrat, has a strikingly simple idea to bolster customers' rights to freely use software, movies and music that they've paid for: Force the sellers of such products to tell the truth about the restrictions they're imposing on users.

When customers know, for example, that the compact disc they're buying is technologically rigged so they can't rip MP3 files from it for use on a portable player, they won't buy it. Eventually, these informed customers will demand change in the copyright laws..."
Yep, simple and elegant. Force the manufacturers to clearly, in proper English, explain what you're buying, including the features they have painstakingly built in to make the product LESS useful to you. And the market will decide what people really want.

If the truth were always clearly visible, market economics alone would transform the world. The only reason that large numbers of people are choosing that which they don't really want is that they're being deceived.
[ Information | 2003-03-03 23:59 | | PermaLink ] More >


---
| | |
| --- | --- |
| Monday, February 24, 2003 | |
---
Hm, there was another weblog event last Saturday in L.A., which I missed. I didn't really hear about it before seeing it on somebody else's blog later that evening. Annoys me. I want to know about everything. Anyway, a report is here.
[ Information | 2003-02-24 21:31 | | PermaLink ] More >


---
| | |
| --- | --- |
| Sunday, February 23, 2003 | |
---


There will be a European conference on weblogs, BlogTalk in Vienna, Austria on May 23-24. Probably doesn't work for me to go, unless some unexpected cash appears. But sounds very good. A number of names I recognize there. It is about "web-based publishing, communication and collaboration tools for professional and private use. The primary goal of BlogTalk is to inventory the current and emerging uses of blogs. Active bloggers as well as people from the fields of business and education are invited to attend."
[ Information | 2003-02-23 23:59 | | PermaLink ] More >


---
| | |
| --- | --- |
| Wednesday, February 19, 2003 | |
---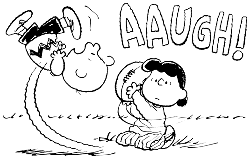 Seb mentions a site with an excellent and comprehensive lexicon of ways to "win" in a conversation by dirty communication tricks. It would be valuable for most people to be very aware of these mind tricks so that you might be prepared, and so you might avoid the diversions others are trying to pull on you.
"As you mature emotionally (or mentally, or spiritually), you will grow out of your present way of thinking, and you will eventually come around to my point of view"

"You weren't breast fed as a child, were you?"

"Well, if you think me such a terrible, horrible person..."

"Your last sentence ended with a preposition. Please restate it properly."

"You said this happened five years before Hitler came to power. Why are you so fascinated with Hitler? Are you anti-Semitic?"

Join a Health Spa: "Don't you care about your own body?"

"I don't want to spend a lot of time on this, but..." (blah, blah, blah...)
There's a ton more.
[ Information | 2003-02-19 21:46 | | PermaLink ] More >


---
| | |
| --- | --- |
| Sunday, February 16, 2003 | |
---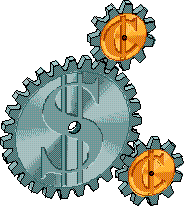 Below is an article I wrote a number of years ago about how the money system works and what is wrong with it. Maybe I'd put more nuances in it today, but I still believe it is basically correct. Most people don't really have any clue about money and think it is being 'made' by doing good work. It isn't. It is being made by borrowing it from somebody who doesn't have it, but who invents it out of thin air. Which I think is alarming. I'm no economist, but I haven't heard anybody educated in economics challenge this. The feedback I've mostly gotten from experts is that it all doesn't really matter. Anyway, read on...

"Some of the problems with our prevalent economic system as I understand it is this:

Money is created by banks. In part by central banks who can make up amounts and lend them out, mainly to central governments, but also to regular banks.

The worst problem is not that the central banks are mostly outside the control of any elected representatives of the population, even though that is certain cause for some suspicion and alarm. In some areas, such as the U.S., the central bank is a completely privately owned institution, owned by its member banks. The central bank of central banks, the Bank for International Settlements in Basel Switzerland, is also not controlled or owned by any government, but is a corporation with stocks. It is located on land that is not considered part of Switzerland or any other country, it is not answerable to any public body, and it does its business in secret.

However, the worst problem is that interest is being charged for the money that is lent out. It might well be a good idea to use fiat money, that is, money that doesn't have any inherent value, but is only valuable because we trust that it is. All currencies on the planet are, as far as I know, fiat money. However, the problem is the interest.
[ Information | 2003-02-16 16:49 | | PermaLink ] More >


---
| | |
| --- | --- |
| Wednesday, February 12, 2003 | |
---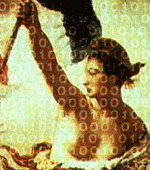 Peter Kaminski on Greater Democracy:
"Do you think government could be run better?

Then how could you not blog right now?

Blogs are a combination of Revolutionary musket, Martin Luther's theses, Poor Richard's Almanack, and Paul Revere's ride.

How could you not seize a musket when offered, or hold the nail and mallet and pound your broadside onto the Wittenberg church door?

How could you not turn the crank on Ben Franklin's printing press, or swing up onto Paul Revere's horse?

Blog. Blog to your family, and blog in the communities where you hold thought leadership. Tell the world it must change, and how you think it should.

The tools of change are at hand today -- they're simple, and Revolutionary, right now. I happen to be a toolsmith, and I'm working with everything I've got to make them more powerful and more widespread, as are many others. But the time to start is now.

Blog. Blog now. Tell the world it must change, and how you think it should."

[ Information | 2003-02-12 21:04 | | PermaLink ] More >


---
| | |
| --- | --- |
| Sunday, February 9, 2003 | |
---
From David Weinberger:
"Two nights ago, Bush's speechwriter was on The Daily Show, the Jon Stewart fake news program that's funny because it blurts out the truth. The speechwriter explained with glee how he came up with the phrase 'Axis of Evil'. He originally wrote 'Axis of Hatred', but his boss (not Bush) took one look at it and said, "No, it's the 'Axis of Evil'", repeating it a few times aloud to see how it sounds.

This constituted the debate over whether these countries actually are evil and the effect classifying them as such would have. A couple of lobes short of The West Wing, eh?"
It would be really funny if it all were a TV show. World politics run by actors and advertising copywriters and, based on articles in school papers. But I wonder when we might actually again see a country run by people who are skilled and qualified for the job, rather than just knowing how to make things sound good on TV.
[ Information | 2003-02-09 21:49 | | PermaLink ] More >


---
| | |
| --- | --- |
| Sunday, February 2, 2003 | |
---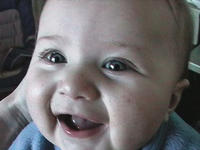 A number of years ago, after being annoyed about having to wear thick glasses all day since my late teens, I sought out natural methods for improving my eyesight. In particular, I found a vision consultant who taught me principles, methods and exercises, loosely based on the Bates Method. It started working right away, and after a couple of months I could take off my glasses. For years I would only need glasses for driving at night. And I would faithfully do my exercises every day. But at some point I got lazy about it, and didn't keep up the exercises, and my sight has worsened. Not as bad as it was before, but I have to wear glasses if I drive of I'm out shopping.

Now, looking around on the net, I found it depressing that the first thing I ran into was a lot of sites where eye doctors were claiming that this kind stuff is complete quackery, that myopia is genetic, and the only answer is glasses or surgery. Hm, I think I have a different opinion about who are the quacks.

What I found most profound about the principles of regaining natural sight is that they apply to many things in life. Here are some of them.

- Sight is primarily mental. If you can imagine something clearly focused, you can usually also see it like that with your eyes. If your mental picture is fuzzy, so is your eyesight.

- Everything in the world is always moving. Natural sight sees that continously, and natural eyes will glide gradually over the scene, rather than jumping around between fixed points. Bad eyesight starts when one begins to see things just as fixed items at fixed distances.

- Instead of letting yourself be thrown around by an apparently solid and immobile world, try turning your perspective around, and assume that you're still, and the whole world is constantly moving around you.

- The periphery is important. Natural sight sees the periphery, the context, all the time, although not as clearly as the portion being focused on. Bad eyesight starts when we focus on one thing to the exclusion of everything else, and when we insist that everything has to be clearly in focus. The periphery is never in focus - duh - but it is nevertheless very important.

- Natural sight is relaxed. You see better by relaxing, not by straining.

Just going for glasses or surgery, without changing one's habits, is almost as silly as taking a pain killer because somebody's standing on your foot. I feel bad that I've allowed myself to be so busy and stressed that I've forgotten about some of the fine ways I have of being relaxed and seeing better.

Here are some more sites: brief overview, method in a nutshell
[ Information | 2003-02-02 14:41 | | PermaLink ] More >


---
| | |
| --- | --- |
| Wednesday, January 29, 2003 | |
---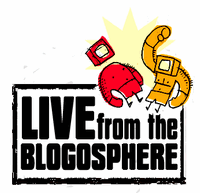 Blogging Event February 15th at the Electronic Orphanage in Chinatown, Los Angeles. It's a production of Rhizome.org, and features Doc Searls, Mark Frauenfelder, Heather Havrilesky, Evan Williams, Susannah Breslin, and Tony Pierce. Sounds great, I'll be there.
[ Information | 2003-01-29 23:59 | | PermaLink ] More >




<< Newer stories Page: 1 2 3 4 5 6 7 8 9 Older stories >>