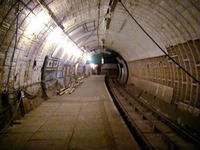 by Flemming Funch

Google seems to think I'm somewhat of an authority on Underground Living. Which I'm not. I've always had a dream of having an underground house. And, also, I'm really fascinated by stories of exploration of underground caves or tunnels, such as the forgotten infra-structure under big cities.

Like, see this site about abandoned stations in the London Underground, including the one that Churchill used as a command center during WWII.

Sometimes it involves illegally sneaking around in the steam tunnels under universities and that kind of thing. Building-hacking, tunnel-hacking. See sites like Urban Explorer, Dark Passage, Forgotten New York, Virginia Tech Urban Exploration or Modern Ruins. Great fun.