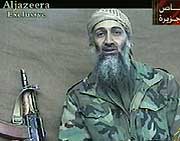 by Flemming Funch

In this article on AlterNet, Diane Perlman points out correctly that nobody seemed to pay any attention to what Osama bin Laden actually said in his last few 'official' messages.
"While media experts were preoccupied with analyzing Osama bin Laden's voice, they failed to comprehend, or even read, his actual words. Speculation about hidden meanings and secret clues totally ignored the obvious intended message, which is so clear that it doesn't even need decoding.[...]

All of bin Laden's messages have a consistent theme, emotional tone and logic. All are about reciprocity, expressed in many different ways. The message from Nov. 12, 2002, began, 'The road to safety begins by ending the aggression. Reciprocal treatment is part of justice. The incidents that have taken place ... are only reactions and reciprocal actions.'[...]

Bin Laden's messages are misinterpreted as unconditional threats and vows to attack. This is incorrect. They are all conditional warnings that whatever we do, they will respond in kind. What is missed by media and political leaders, whether intentionally or unconsciously, is the conditionality, the centrality of our role in provoking retaliation or preventing retaliation and reducing terrorism."
Read the whole article. Of course none of that legitimizes what Bin Laden is doing, but she's right. He says he'll pay back the aggressions, but that he, for example, wouldn't use nuclear weapons first. He is talking about reciprocity. Paying back. Retaliating. Evening the score. But that is not of much comfort, as an immature U.S. government continously supports and carries out plenty of aggressive and oppressive campaigns overseas that he and other terrorists might find ample reason to retaliate against. The escalation could quickly be stopped if the U.S. stopped trying to always get the last word in terms of retaliation, and if it stopped the dangerous planning for preemptive strikes. And, even better, if the U.S. would actually listen, and discover what it is people have been so mad about in the first place.