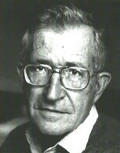 by Flemming Funch

Transcript of talk by Noam Chomsky on Taking Control of Our Lives: Freedom, Sovereignty, and Other Endangered Species. Much good historical stuff. For example, he says this about corporations:
A century ago ... corporations were granted the rights of persons by radical judicial activism, an extreme violation of classical liberal principles... They were also freed from earlier obligations to keep to specific activities for which they were chartered... Furthermore, in an important move, the courts shifted power upwards, from the stockholders in a partnership to the central management, which was identified with the immortal corporate person."
And about who are the main enemies of (personal) freedom and (regional) sovereignty on the planet:
"An array of mega-corporations, often linked to one another by strategic alliances, administering a global economy which is in fact a kind of a corporate mercantilism tending toward oligopoly in most sectors, heavily reliant on state power to socialize risk and cost and to subdue recalcitrant elements."
Very well put. He goes on to describe very well how the current power structure in the world is not much more than a continuation of previous times where kings ruled and basically owned the kingdom, and all political, economic and legal structures were designed to keep it that way, and to keep the people from ever having any real power. The elites who own things are protected from the general population. Things are structured so that popular opinion is essentially irrelevant if it conflicts with the aims of the ruling elite.
"One striking example (there are many) has to do with the international economic order -- what are called trade agreements. The general population, as polls make very clear, is strongly opposed to most of what's going on but the issues don't arise. It's not an issue in the elections because the centers of power, the minority of the opulent, are unified in support of instituting a particular kind of socio-economic order. So therefore, the issue doesn't arise. The things that are discussed are things that they don't much care about. Like questions of character or questions of reform which they know that aren't going to be implemented. So that's what discussed. Not what people care about. And that's pretty typical and it makes sense on the assumption that the role of the public as the ignorant and meddlesome outsiders is just to be spectators."
If the population actually starts organizing itself, it would ironically not be considered democracy, but more like a crisis of democracy. The kind of thing that riot police and press silence might calm down eventually.