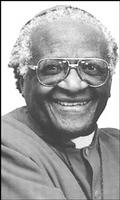 by Flemming Funch

From Kim Baker in South Africa:
Our beloved Desmond Tutu has spoken out
against the USA's stance on Iraq. An extract: "I'm shocked to see a powerful country use its power frequently, unilaterally," said Tutu, who won the Nobel Peace Prize in 1984 for opposing apartheid. "The United States says: 'You do this to the world. If you don't do it, we will do it.' That's sad," he said. "When does compassion, when does morality, when does caring come in?" he asked. "I just hope that one day that people will realise that peace is a far better path to follow."
And Kim says:
"At this time especially, I am really proud to be South African. I am proud that our government is keeping a level head, and not going along with the "boys" Bush, Blair, Howard, and others, but rather making independent decisions, and maintaining a perspective of considering what is right for the global good."
Yes, indeed. I'm very un-proud of sort of being an American at this point. Here in the Dark Ages.