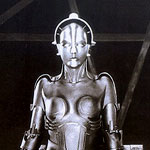 by Flemming Funch

Greater Democracy quotes an Independence Day Manifesto that Allen Ginsberg wrote in 1959. It begins:
"Recent history is the record of a vast conspiracy to impose one level of mechanical consciousness on mankind and exterminate all manifestations of that unique part of human sentience, identical in all men, which the individual shares with his Creator. The suppression of contemplative individuality is nearly complete.

The only immediate historical data that we can know and act on are those fed to our senses through systems of mass communication.

These media are exactly the places where the deepest and most personal sensitivities and confessions of reality are most prohibited, mocked, suppressed.

At the same time there is a crack in the mass consciousness of America -- sudden emergence of insight into a vast national subconscious netherworld filled with nerve gases, universal death bombs, malevolent bureaucracies, secret police systems, drugs that open the door to God, ships leaving Earth, unknown chemical terrors, evil dreams at hand.

Because systems of mass communication can communicate only officially acceptable levels of reality, no one can know the extent of the secret unconscious life. No one in America can know what will happen. No one is in real control. America is having a nervous breakdown... " [more]
And, as David Weinberger poignantly comments:
"Now we have new cracks in the broadcast stranglehold on what we know and what we count as interesting. We have one another, unmediated, through the Internet. The Internet should be America's nervous breakdown. And not a moment too soon."
Yes, indeed. It is too late to put the genie back in the bottle, so it should indeed make somebody very nervous that we actually can sit here and share information at will, largely unrestrained. Some of us might even wake up and start thinking for ourselves.