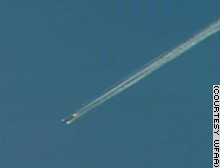 by Flemming Funch

Columbia broke apart over Texas on its way in to landing this morning. I'm sure most of you have heard it already.

That is very sad in many ways. Sad for the families of the astronauts, sad for the U.S. space program, sad for other space programs.

What is somewhat strange is that it appears much less sad and shocking than 17 years ago when the Challenger shuttle blew up after takeoff. At that time there was a tremendous shock and deep grief. It was a bit like 9/11, a deep wound into the American heart. Everybody were just in shock, sitting glued to radio or TV all day, in disbelief. But today, when I caught the first news about it (in a weblog), and turned the TV on, most people were, yes, very sad, but were also talking about how this is really a danger that goes with the job; not too unexpected; and they were talking about moving on. Very different response compared with the Challenger disaster, both in myself, in people around me, and in who I see on TV. I don't know if it is because people are more numb to disasters after 9/11, or if there is just a different flavor to this event somehow. See also what Glenn Reynolds says.

What is sad is that space exploration could have gotten much further at this point, if it had been properly supported, and this will only set it back further. As Phil Wolff just said:
"I'm angry that congressmen for the last 30 years haven't fully funded space exploration. The Columbia should have been bringing back tourists from the moon, settlers from Mars. And this wouldn't have been the 28th mission but the 1000th."
The space shuttles are 30 year old technology. They're in no way the height of what is possible today.

For that matter, and that is a lot more touchy, I still don't really believe that this is the real space program. Apollo, the space shuttles, big expensive dangerous rockets using huge amounts of fuel, I don't believe that is the most advanced technology available to humankind. Oh, not that I side with the skeptics who don't think we went to the moon. I think it all happened. But I also think it is a bit of a decoy, keeping us in the belief that space flight has to be ridiculously hard and expensive and wasteful of resources. I think the truth is something different, and I'd guess there are groups within the military-industrial complex who are playing with very different toys.

Not to minimize in any way what happened today. It is a tragedy, and the astronauts onboard Columbia will rightfully be remembered as the heroes they are.