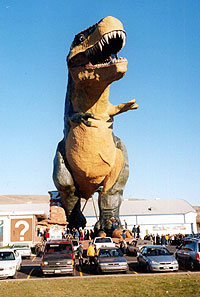 by Flemming Funch

Jock Gill has a nice piece on Greater Democracy, which hits some things right on the head.
"Nature has worked well for billions of years by making vast numbers of very small bets. This minimizes the risk that a single bad outcome could inflict. For this reason, our conservative brethren are correct in asserting Big Government is a problem. To the extent that Big Government represents a bet too big that imposes unacceptable risks, it is a problem that demands our attention. The failure of the old Soviet Union comes to mind.

But the riskiness of big bets doesn't apply just to Big Government. It also applies to Big Business. And that's the big bet today's conservatives ask us to make over and over. The conservatives of course don't call it a big bet. They call it 'privatization' and 'consolidation'. But they can't have it both ways. If they want bigger and bigger bets on business, then we need government to protect the long term good for all by restraining the worst excesses of unfettered market capitalism with its narrow focus and myopic time scales. If conservatives want smaller government, they will have to agree to smaller businesses."
Indeed. Big government and big business is the same kind of animal. Both tend to be counter-evolutionary forces, making us all collectively quite a bit dumber than we really are.