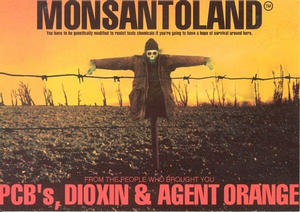 by Flemming Funch

The possibly most despised corporation in the world is finally hitting on some hard times.
"Despite heavy advertising and PR greenwash, despite a cozy relationship with the White House, Monsanto's image, profits, and credibility have plunged. Its aggressive bullying on Frankenfoods, its patents on the Terminator gene, its attempt to buy out seed companies and monopolize seed stocks, and its persecution of hundreds of North American farmers for the "crime" of seed-saving, has made Monsanto one of the most hated corporations on Earth.

Monsanto will likely soon be broken up, with its parts sold off to the highest bidder. The New York Times reported 1/14/03, that 'With its stock price low, Monsanto is considered a takeover target. by investment banks. and could be bought and sold off in pieces.'"
Hopefully in very small pieces. I think that is good news for the environment.