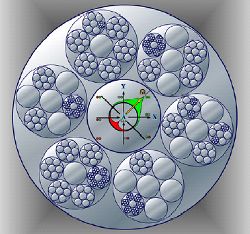 by Flemming Funch

Timothy Wilken writes in Dymaxion: Doing More with Less:
"When we examine the biological needs of a number of single celled organisms surviving as individuals versus the needs of the same number of cells working together within the body of an organism, we find the cells working together are able to reduce their biological needs by 100 to 1000 times. The bodies of all living systems are organized synergically. That means the cells work together and solve the problems of survival as a unified team. Imagine, what could be possible if the entire human species were a single organization. The synergic strategies of Ortegrity could be used to organize all of humanity into a single level 12 Ortegrity up to a limit of 13,841,287,201 humans. In our present world, with its obsession with growth and growing larger, whenever I have presented the Ortegrity to business people, they have been excited by the possibility of increasing production. However, they tend to overlook the point that these systems could be 100 to 1000 times more efficient. Now being more productive doesn't mean you have to produce more. It also means you could produce what you need in less time and then have more time for yourself and your family. Being more efficient means you can do with a lot more with less energy and matter. ...What this efficiency means is that the ecological footprint of 6 billion synergically organized humans could be as low as that of 60 million to 6 million of today's adversary-neutrally dis-organized humans."
I believe that. Of course we need to be organized synergetically. And, for that matter, I don't think we inherently need to have ANY footprint. The rest of nature recycles everything. Timothy is inspired very much by Bucky Fuller and Alfred Korzybski, who are two of my heroes as well. There's a whole book in that Ortegrity link, with lots of neat stuff. "Ortegrity" refers to a way of organizing, supposedly scalable to the size of humanity. I don't quite understand it, even after looking over the document. And, well, despite that I agree in the aim of helping humanity self-organize in a synergetic way, I'm very skeptical of any scheme that involves numbers that are too neat. You know, people work together in group of so-and-so many, that are part of bigger structures with so-and-so many elements. And I'm skeptical of the intention to avoid conflict. There is productive conflict and unproductive conflict. Personally I enjoy having a good argument once in a while, and I think more gets done if there's a healthy element of competition. Synergy doesn't mean lack of conflict in my book.