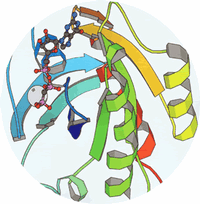 by Flemming Funch

Greg Bear is one of my very favorite science fiction writers. He also has a good grasp of the science part. Recently he's been looking at evolution. FuturePositive has an article The New Biology he wrote recently.
"The unfortunate aspect of the rancorous debate on evolution in the last seventy or more years has been the fossilization of hypotheses. One side says "God and God only," the other says, "Random mutations and natural selection and nothing more." Both are likely wrong. A third variety of "intelligent design" has long been awaiting our attention.
Many evolutionary biologists have built their careers on foundations that are erroding rapidly. Specifically that biology and evolution can be reduced to simple mechanistic behaviors, and random stumbling around. Now extraordinary things are being discovered, such as DNA rearranging itself in ways that are nothing like random. And DNA being exchanged in other ways than sexual reproduction. Bear puts forward the hypothesis that computational DNA communicates in various ways, through pheromones, viruses and sexuality; incorporating, selecting and editing genes, as part of a species-wide neural network, solving problems in much vaster scales than science previously anticipated. Regardless of what exactly it is found to be, something big is being discovered.
"Some refer to this burgeoning new view as "systems biology." For many conservatives in biology, the changes are heartbreaking, even infuriating. But the evidence has been mounting for decades, and clear signs of the necessity for radical change has been evident for over fifty years. Arthur Koestler fought reductionism in psychology and biology from the 1950s to his death.

We're facing a true paradigm shift. Is that surprising? Did anyone actually believe we had all the answers to something as marvelous and complex as life and evolution?

That organisms exchange genes through other than sexual means is now irrefutable for metazoans as well as microbes. Retroviruses, and now perhaps bacteria, may well serve as vectors for such exchanges. Commensal bacteria in our intestines commonly interact with our tissues. Surprisingly, there appear to be mechanisms in most organisms for evaluating and either destroying or utilizing RNA from outside sources, including retroviral sources. This evaluation process is extremely important, and understanding it may be key to understanding how the genome works in both individuals and in populations.

The "selfish gene" is certainly a valid concept in some instances, but not in the vast majority. Rather, because genes rely on interaction with many other genes-hundreds in some cases-to be effective, they are less like competitive rogues than tame office-workers. The "social gene" becomes a better model. And in fact the social aspects of the genome have been championed for decades by brave molecular biologists and geneticists, including Lynn Margulis.

Altruism in societies is well demonstrated, and rationally quite defensible. That genes operate in their own societies, and that species both compete and collaborate in those larger societies called ecosystems, functioning as nodes in an extended neural net, makes the problem of cooperation and altruism far more tractable.

Random processes are also at work in evolution, quite clearly, leading to either uncorrected errors or serendipitous discovery-but I do not think that we can any longer support random mutation as the sole cause or even the major cause of variation. Darwin himself deliberately avoided subscribing to chance as the sole cause of variation, thus leaving the actual cause to be discovered in the future. Later generations leaped in well before the facts were available, and cemented the hypothesis, slowing the pace of biological discovery by actively discouraging alternatives.

A similar reductionist slow-down happened in psychology with Behaviorism, whose central tenets are now largely discredited."
I never quite understood how well-meaning intelligent people could seriously conclude that life is the result of randomness-and-accidents-all-the-way-down. Maybe a reaction to a strict religious upbringing or something. I think we're going to find that the truth is much more satisfying all the way around.