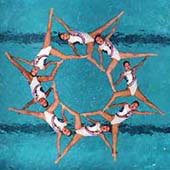 by Flemming Funch

Seems to me we humans are changing in more profound ways than we might readily notice. Most of us are no longer living in the same kind of world.

Earlier, a few hundred years ago, or even 50 years ago, life was more simple and coherent. You have a certain job, and you manage life by doing what you're doing. If you were Joe the Blacksmith, your life was pretty much defined by what you did. It might have been hard and full of suffering and struggle, but it wasn't mental struggle. It was clear what you did, and what role you played, and it was continuous and coherent. You played that role all day. Even when you were off you were still Joe the Blacksmith. OK, closer to our own time, you might have several roles sequenced linearly. At work 9-5 you're Joe the Insurance Salesman, and when you get home you're Joe the Family Father. One thing at a time. All you need to do to do it well is to be present for it, and do the few tasks required of you.

If you live in the "developing" world, in an oldfashioned way, you might still be living your life being in the same role all the time. And you probably wouldn't be reading this. If you live in a westernized country, you might possibly have managed to stay in an arrangement where you focus fullheartedly on your job during the day, and then you go home to your family, and it is still simple and straightforward.

But more and more people are no longer living straightforward linear lives. What makes the difference is in part our communication technologies. We carry cell phones and beepers. We have e-mail, instant messengers. But it is also what we do mentally and emotionally. We increasingly live abstractly or virtually, interacting with stuff that isn't physically here.

I live in a house with some other people. There's plenty to do. I could work in the yard, clean up, read my books, relate with these other people. I could spend all my time doing that, and in the "oldfashioned" way of life, that's what I would be doing. It might have been a farm, and all my attention would be spent on the work and activities going on here in this physical space. But now, today, I spend maybe 10% of my energy on what is going on right here. The rest is scattered across a much larger space, both geographically and more abstractly.

I perceive myself as having a long list of obligations to people in various areas. I work for money for people in several places, and I almost never see them. They aren't here, yet I feel quite a pressure of doing things for them. Part of that work involves keeping an eye on a whole bunch of things that aren't here either. Servers, e-mails, relations to a whole bunch of other people I don't see.

I have shared projects with more people, just as scattered geographically. I have a more or less abstract relation to hundreds or thousands of people who either read what I write, or who use programs I've written, or who participate in spaces I've set up.

Much of this has similar characteristics and importances as activities I would previously have done right here. They represent jobs, callings, obligations, quests, friendships, community. But yet they're lacking the natural boundaries that previously would have regulated such things.

If I were living in a small village and I was doing physical work, there would be certain obvious natural boundaries. I can't work more than 24 hours per day. I can't have a conversation with much more than one person at a time. If I'm shoeing Jack's horse, it is obvious to everybody that I'm not doing all sorts of other things. If you come to my shop and I'm not there, then obviously I'm not there and you'll either wait for me, or come back another time.

But our virtual and abstract relationships don't easily respect such boundaries. They all tend towards consuming all time and space. They would, at least sub-consciously, tend to expect you to provide your full attention 24 hours per day. Which is becoming increasingly impossible.

I work for several different companies. They're mostly pleasant to work with, but they don't have much awareness of each other, so each will tend towards expecting me to work for them 24 hours per day. Oh, they'll wait a few minutes if I have another call, but they're never going to understand what else I'm doing.

Most people who call on the phone will expect me to answer and to actually be available to talk with them when I do. Most people who send me an e-mail will expect I have time to read it and answer it. Most people who come by will expect I have time to talk with them. My family expects that I'm always there, to have dinner, fix a boo-boo, or clean up in the garage.

Maybe I'm particularly bad at setting boundaries. But I doubt it is just me. I'm living at least a dozen lives. But yet I haven't been granted any more hours in the day. I'm being torn in many directions. My time is sliced up, juggling many different priorities and commitments, either at the same time, or in successive time slices.

It frequently makes me stressed, or confused. I'm not sure if I'm longing for simpler times, or I'm longing for a new evolutionary capacity of my brain, or if I'm just badly organized. Maybe all of the above.

In the "old" days it was easy to remember who you were, because the world didn't change very much. Everybody would remind you who you are, and if you simply did the work that appeared on your doorstep, life was simple. In our busy fragmented world, that's no longer any practical strategy.

Of the several directions of answers I see, one is to gain a much higher degree of awareness of who you are and how you do things. Not your title or your work or your obligations. But the specific quality you add to everything you do. Your brand. Maybe you haven't discovered it yet, and you need to. Maybe you kind of know, but it has been forgotten. But, one way or another, there's a need for finding who you are, separate from all the other stuff. Only then might you have a better chance of choosing what to get involved in, and what not. And there is a chance that you will actually do all of it in a consistent and coherent way, where you're actually in alignment with yourself, even though you're wearing many hats.

Another angle is to discover a different kind of awareness. A group awareness rather than an individual awareness. You're doing a whole bunch of things, in a whole bunch of different contexts. That is kind of like being a whole bunch of individuals. That can still work. You can be a swarm. An ant hill, a school of fish, or maybe rather a whole eco system. Many diverse pieces that relate with each other in a synergetic way. Instead of staying in the illusion that you're one person doing one thing, accept that you're now a movement of diverse pieces. The rules for a movement or an eco system are drastically different from the rules an individual might live by. A whole new volabulary to learn.

The world looks deceptively like it used to. The sun comes up in the morning, and you put clothes on, and eat, and gravity works like it always did. Yet, this is only a small portion of the world you live in now. You live many parallel lives. They need to learn to co-exist peacefully, if they don't already. Many independently moving pieces can very well exist in harmony, and a new kind of order can emerge.