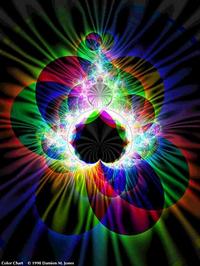 by Flemming Funch

I feel inspired to explore the subject of wealth and business. I'm both interested in unearthing the seedy channels that money flows through when we dig down a little bit. And I'm interested in discovering more integruous, but practical, ways that good people can have access to the wealth needed to live meaningful lives.

See, it still seems like most people are either wage slaves, who do things they wouldn't do otherwise, for people who make much more out of it than they do. Or they're the people who exploit the wage slaves, getting them to do as much as possible for as little as possible. Or people are self-employed or small business owners, who work harder than either wage slaves or big business owners, for more uncertain rewards. Or you're somebody who has found a way of exploiting the system, particularly if you're in a socialized country where you can get social security. Or, you've found you own niche where you've made some kind of deal or investment in the past, or you happened to have been married to the right person, and now can live off the fruits of that. Or you're one of the somewhat few and lucky people who actually are doing exactly what you want to do, and people voluntarily reward you for it.

I personally usually have ended up either being somebody's wage slave, or an indepenent contractor that works very hard, or sometimes I'm lucky that I'm rewarded for things I've done and enjoyed. And I've realized by now that it doesn't work well for me at all to try to act as an unscrupulous business person who sells useless stuff and buys things for too little. Or as a stock market gambler who buys and sells stocks based on numbers, rather than on whether they're good companies or not. Or an MLM guru who signs people up into questionable pyramid schemes by enthusiastic BS sales talk. Neither am I somebody who even sells myself well. What works for me has been to be very pure and integruous about doing the stuff I really care about, whether it pays or not, and then to take work where it is offered, even if it doesn't exactly match the stuff I really care about.

But the third possibility is to be instrumental in generating more true wealth in ways I actually can defend morally. Which for me points towards either helping people realize their dreams individually or creating networks that help them do so, maybe by doing business with each other. And to do so in a way that is actually viable, for them and for me.

It seems quite obvious that a sufficiently large network of motivated and skilled human beings can do great things together, if they each get clear on what they have to offer, and what they need, and they share some resources, knowledge and infrastructure.

Sofar I've been most into creating network facilities for purposes that are far removed from the idea of doing business together. It wasn't exactly intentional, but it is at least a reflection of my own distaste for phoney and blatant commercialism. The result is, however, that I mostly have managed to create spaces for stimulating human interaction and discussion, with not much grounding in tangible shared projects. But really I have nothing against facilitating that people do honest business with each other. And I have nothing against loads of money in my hands.

And there's the thought that *business* is a natural key point. Doesn't even have to be commercial business to make money. It might be putting together a non-profit organization. But there's something that happens when people go into business, where some real resources have to be committed, and there's something at stake, and a tangible outcome in sight.

And, not to complain about my friends, but it seems like most people I know aren't much into that. They're great and warm and interesting people, and interesting discussions can happen. But mostly they're not potential business partners. They have jobs, or they don't need jobs, or they have businesses but never tell me about them, or they have causes to promote.

Anyway, I'm just thinking aloud and considering that there's a way I can more actively pursue business opportunities, without selling my soul, and where I can explore the potential wealth of networks.

So, I will be exploring what is out there, and direct some of my energy towards a different kind of networking than I normally do.

A keyword is "Free Agent". Somebody who's neither an employee nor an employer, but who has some resources and skill, and a keen eye towards the resources of skills of others, and who's able to network them all well, so that the least possible effort gets the most result, and he/she is both well supported in life and free to pursue his interests, and others are too.

Another word would be "Weaver". Somebody who notices opportunities for something good to happen which isn't already. And who then helps some threads to be woven together, for the benefit of all involved.

It is still a conversation, but it is a conversation directed somewhere. Towards the realization of projects that are not only good and desirable, but also viable.

So, a key is to reframe business from being about cheating people to being about making activities be viable, finding the greatest good for all involved, and activating untapped potentials for greater synergy and leverage.

That becomes much easier if there is a supportive network, of knowledge and resources and tools, and people who're ready to play with others.

There are already lots of business people in the world, who already know well how to do their craft. I guess I'm mostly casting an eye towards the folks who're still stuck in jobs that don't serve them, who might be better off as free agents and entrepreneurs. People like myself who somehow can't quite figure out how to effortlessly generate the wealth to support their lives without selling their souls to those who do know how.