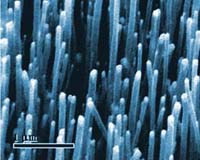 by Flemming Funch

Nano technology progresses on various fronts.

According to New Scientist, Israeli researchers have succeeded in getting DNA to assemble nano-scale transistors. In other words, biology used to create self-assembling electronic devices. Still way to go before it can be useful, but it is the first successful demonstraton of that kind.

And, according to SpaceDaily, Russian scientists have made a device that should be able to produce large amounts of nanotubes. Carbon nanotubes is the strongest material currently in existence. It is a key component of plans to create space elevators. E.g. cables from the earth to geo-stationary orbit, allowing you to take an elevator into orbit. Or, better yet, cables from the earth to the moon.