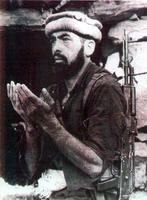 by Flemming Funch

Via Metafilter, an article, "Terrorism's new Mecca" by Jessica Stern. It examines the causes of terrorism.
Several possible root causes have been identified, including, among others, poverty, lack of education, abrogation of human rights, the perception that the enemy is weak-willed. I've been interviewing terrorists around the world over the past five years. Those I interviewed cite many reasons for choosing a life of holy war, and I came to despair of identifying a single root cause of terrorism. But the variable that came up most frequently was not poverty or human-rights abuses, but perceived humiliation. Humiliation emerged at every level of the terrorist groups I studied — leaders and followers.

The "New World Order" is a source of humiliation for Muslims. And for the youth of Islam, it is better to carry arms and defend their religion with pride and dignity than to submit to this humiliation. Part of the mission of jihad is to restore Muslims' pride in the face of humiliation. Violence, in other words, restores the dignity of humiliated youth. Its target audience is not necessarily the victims and their sympathizers, but the perpetrators and their sympathizers. Violence is a way to strengthen support for the organization and the movement it represents.
It rings true more than anything else. No, it is not people who "hate freedom". It is people who's family, who's culture, who's religion, who's countries, who's leaders have been humiliated. And it is people who's pride and dignity are more important to them than their lives. It shouldn't be that hard to understand. Stop carrying out programs of organized humiliation. Better yet, help these folks having something to be proud of.