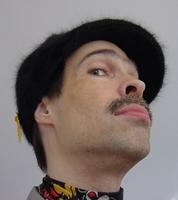 by Flemming Funch

Alexandra Polier got involved in a potential looming scandal for leading U.S. democratic presidential candidate John Kerry. Somebody thought he'd been having an affair with her, and he denied it. And so does she, and there probably wasn't anything to it. She once dated one of his staff members, and it was all a big misunderstanding, probably. And so what if it wasn't? But journalists and political opponents are looking hard for anything incriminating. So now look at something like this article. Somebody found her profile in Friendster. OK, seems like it has been pruned a bit since then, but when they looked at it, it was a Friendster profile like thousands of others, saying things like:
"About Me: just another hot piece of ass with a philosophy degree and a love for old movies. I'm afraid of death, hospitals and insects. I can't spell. I like old people. I want to travel the world reporting on injustices while taking the time to enjoy an umbrella drink when appropriate."
And it lists her being in an open relationship (gasp!) and stuff like that. Nothing special. Except for when the world press is scrutinizing your life looking for any sign that would indicate you to be some kind of loose woman who would be likely to have an affair with some important politician. Stupid moralizing hypocricy on the side of such journalists and the people who pretend to be shocked at reading about it.

But 100s of thousands of people are very publically posting stuff like that in online networks or on their blogs or other webpages or forums or discussion groups. People like me, who're generally open to living your life fairly out in the open, and who feel that the advantages of open networking outweighs the downsides. At least until you suddenly are put particularly in the spotlight, and any little comment you might have made can be greatly misconstrued and taken out of context, painting a picture of you that isn't really true.

I've had a bit of a taste of that recently myself. I unfortunately can't post the full story, because it is causing some other people much bigger problems than it is causing me. I found it kind of hilarious and entertaining, even if it is very mean-spirited. In brief, a friend of mine has an organization in Germany inspiring young people to choose positive directions in their lives. Somewhere on the website there's a quote from me and a link to one or more of my websites. An investigating journalist was bent on finding some dirt on this organization, to bring it down, for some reason that isn't entirely clear, other than that it is somehow "alternative". So, he started investigating anything he could find on me and anybody else linked from the site that could possibly be a good target. And, well, there's a wealth of material on the net about me, both what I've written, and references to things I've done in other parts of my life. Taking some of those references out of context, and forgetting to look at the date, the guy decided I am some kind of top Scientology cult leader. Scientology is a very bad word in a number of European countries, so any kind of association is about at the same level as being a Nazi or a Satanist. And I used to be a scientologist. To be precise, I was kicked out and excommunicated 22 years ago, quite thoroughly. Scientologists are forbidden from even speaking to me. And, sure, I've been friends with people who used to be top scientologists. And, sure I've practiced various alternative therapies and written books. A good scientologist wouldn't recognize any of that as being scientology, but if you don't look too closely, you might quickly conclude that it must all be the same kind of weird occult brainwashing type of stuff.

This journalist also found my blog, which told him I had moved from the U.S. to France recently. And he searched the net and found my profile in OpenBC, an online business network with a European focus. Which happens to have its company headquarters in Germany. And he sort of added these things - badly - together, and concluded that I am a top Scientologist who's about to invade Germany in order to corrupt young people's minds.

So, while I'm just sitting around here, in France, minding my own business, trying to survive - there I suddenly am, last month, on the front page of a minor German business newspaper. Big color picture of me, taken from my blog. And this whole harebrained story, painted in rather threatening terms, guessing heavy-handedly at my possible hidden motives for establishing a "business presence" in Germany. You know, that OpenBC profile! It is all kind of funny, and doesn't really bother me personally. For that matter I'm kind of flattered. But it is bad for my friend who actually is trying to do some good things, and who's name gets smeared by his association with unscrupulous and sinister characters such as me, however fanciful the story is.

I don't think I personally want to change anything about how open I am with posting things. I believe the answer generally is MORE communication, not less. Sure, you can come and take one thing out of context, but there's plenty of other material that can balance the picture, if an intelligent person bothers to look. And if there's anything in particular I think might easily be misunderstood, I'd rather be the first one to write about it myself, before anybody else gets a scoop out of revealing it.

There's always a bit of a danger in being a multi-facetted, open-minded person with varied interests and years of colorful experiences exploring different things. ANY part of it might pop up out of context anywhere. Your sexual preferences, your history of drug use, something you said sometime when you were really depressed, something you thought was said to a closed group of friendly people, those pictures your ex-boyfriend took of you - anything. But in the long run, I think that's a good thing. It makes it much harder to claim that any of us are just one-dimensional perfect people without a spot on their record. If we all have lots of varied spots, it no longer is such a good weapon to come along and discredit you by bringing out one little controversial piece of information from your past, which just happens to play well in a soundbite.