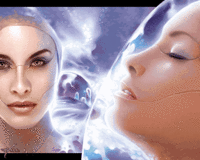 by Flemming Funch

Paul Hughes has started a new collaborative futurist blog FutureHi - Celebrating the Rebirth of Psychedelic Futurism. Which I'm also lined up to contribute to, which I hopefully get into shortly. Paul has set an exciting tone for the site already, and made it look really pretty too. Here's from a recent article:
One of the primary inspirations behind this new site is that turning on higher intelligence is not only fun and joyous, it is absolutely necessary if we and our intelligent civilization are to survive the coming decades and expand out into the cosmos. By higher intelligence I mean the whole enchilada, whatever that is - not just greater intellect, but greater everything, greater emotional sanity, more love, compassion, creativity, inspiration, and most especially the transcendent experience itself and it's infinite expanse so raved about by psychonauts, shamans and eastern/yogic practioners.
Yeah, there are some important things that really ought to converge more. If we need to avoid killing ourselves and the planet very effectively with the rapidly accelerating wonders of technology, we need to get a whole lot smarter and wiser very quickly as well.