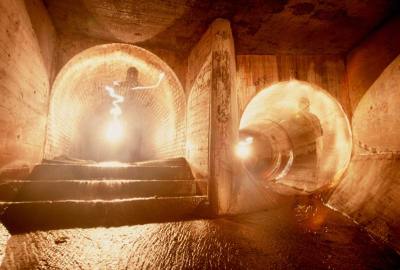 by Flemming Funch

I am terribly fascinated by underground exploration. Like natural caves, or the artificial tunnels and lost places under our cities. Exploring such things vicariously suits me just fine, so I'm glad there are folks who have the guts to crawl around in dangerous underground cavities. There are many sites for these activites. I mention some here. One I just ran into via wood s lot is Sleepy City, which has amazing pictures.
Sleepy City is a photography site dedicated to the secrets of the city... your city. Underground tunnels, derelict industrial components and urban ruins are where I like to play. Discarded by society these interesting and historical sites wait quietly for the occasional urban explorer. Grab a torch and have a wander.
Lots of photos. And beautiful words too.
The city sprawls in all directions, a hectic mass infecting the earth it rests on. The buildings reach upwards and the root like tunnels burrow below. Citizens run madly, never considering the back alleys, tunnels and buildings of yesteryear. However these are places that, if you recognise them, hide the history and secrets of your city. Through the decaying doorframe or that unnoticed metal hole wait adventure and sights few will ever see. All it takes to step across into this parallel world is a torch and a curious spirit. No joining fees, no ridiculous contracts and nobody looking over your shoulder. You might be surprised how little of your city you have ever appreciated.
Oh, and here's an interview at Creativity/Machine with the "mysterious urban explorer" behind Sleepy City.