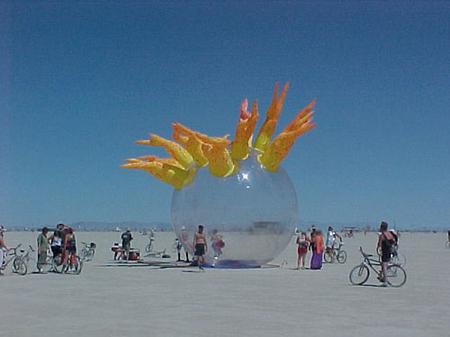 by Flemming Funch

The yearly Burning Man finished a couple of weeks ago. I haven't succeeded in ever going so far. Usually thought of it a bit too late to make plans, and it wasn't easy for me to pull a week out of the calendar. But I can at least enjoy other people's experiences and pictures and hook into the spirit of the thing. Paul and LVS23 have reports at FutureHI, here and here. OK, it is obviously all a bit beyond description, and something to experience, so just a couple of inspiring tidbits here, from Paul:
About an hour later I ran into Dlight of Tribal Oasis, who spoke eloquently of creating this type of post-modern tribal community full time. His ideas are very compelling and he now has me convinced of their attainability. He went on to tell me that regardless of what we've been told, hierarchy has ended and we now need to get used to living without those rules. The technologies of liberation are expanding so fast, that hierarchy simply cannot survive, and so we as a species need to finish the job of deprogramming ourselves out of this primitive hangover. He also mentioned that the singularity is really just another form of misguided monotheism, another type of hierarchy. The future is not a singularity, but a Cambrian explosion of diversity and creativity heading out in every direction.
Hey, I'm with you. I want to believe!
Burning Man is a super-condensified experience - a day can seem like weeks have passed. I never escaped the feeling that I had landed on some beuatiful alien planet filled with novel delights at every turn. This alien feeling was immediate and viceral and I didn't want it to end. No manner of sci-fi movie watching can prepare you for it. A cross between Barbarella, Mad Max and Tatooine might give you a hint, but that's all.
And here from LVX23:
In the end change is constant and Burning Man will inevitably fade, hopefully to be replaced by another similar current, appropriately occulted from dilution and evolved to bring newer generations closer to the utopic ideals of it's founders - ideals that are really the same ideals shared by all of us since the infancy of humanity: warm companionship and community, expression and creativity, freedom from meaningless routine, and a communion with the ineffable and un-namable mysteries of creation. Burning Man is simply one point in time carrying the current onward, sustaining and nurturing the human spirit as it blossoms into hyperspace.
What can I say. Yes, we want it. Life could be different. It takes felt experiences to really take us somewhere else, where we better belong. Critical mass can happen at any time.