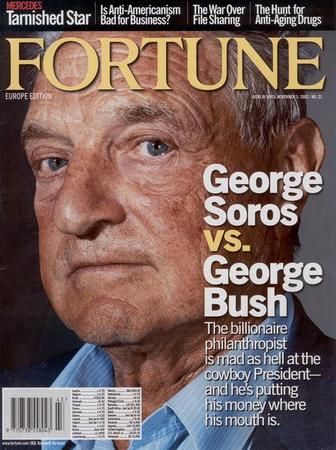 by Flemming Funch

George Soros now has a blog. He's done many good things like the Open Society Institute. And, now, it is quite useful when a billionaire can put some significant resources behind opposing George Bush's regime.

Yesterday Soros got a good deal more traffic than he had expected. During the U.S. vice presidential debate, Dick Cheney suggested for the viewers to go to factcheck.com to get the truth about accusations made about his former company Haliburton. And after the debate, an average of a hundred people a second went to that site. It is just that Cheney unfortunately had given the wrong URL. He had meant to say factcheck.org. Factcheck.com happened to be some random commercial site hosted by some people in the Cayman Islands. When they realized what had happened, they decided it would be a better idea if they redirected all that traffic to Soros' site, even though he has no relation to them. A good political statement, and Soros' server could probably handle the traffic load. Which factcheck.org is having a bit of trouble with. Seems like a fine and objective site, though. I think Cheney regrets that he tried to mention it, as they found quite a few more flaws in what he said than in what Edwards said.
Cheney wrongly implied that FactCheck had defended his tenure as CEO of Halliburton Co., and the vice president even got our name wrong. He overstated matters when he said Edwards voted "for the war" and "to commit the troops, to send them to war." He exaggerated the number of times Kerry has voted to raise taxes, and puffed up the number of small business owners who would see a tax increase under Kerry's proposals.

Edwards falsely claimed the administration "lobbied the Congress" to cut the combat pay of troops in Iraq, something the White House never supported, and he used misleading numbers about jobs.
Hard work to keep those guys honest, I'm sure. While watching their debate, I thought they came out about even, but now reading the fact check analysis, it is obvious that they didn't do equally well in the truth department.