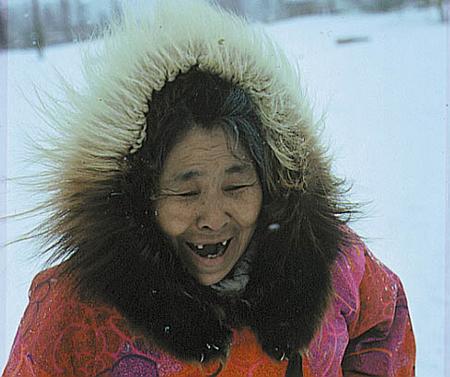 by Flemming Funch

It is often said that eskimos have a large numbers of words for types of snow, like 60 or so. And almost as often somebody will claim that it is an unfounded falsehood. Somebody even wrote a book on that basis. But now some folks have actually done the logical thing and investigated it a bit. And maybe it isn't exactly 60, but it is at least 32. These are from the Inupiat Eskimo Dictionary by Webster and Zibell:
apun: snow
apingaut: first snowfall
aput: spread-out snow
kanik: frost
kanigruak: frost on a living surface
ayak: snow on clothes
kannik: snowflake
nutagak: powder snow
aniu: packed snow
aniuvak: snowbank
natigvik: snowdrift
kimaugruk: snowdrift that blocks something
perksertok: drifting snow
akelrorak: newly drifting snow
mavsa: snowdrift overhead and about to fall
kaiyuglak: rippled surface of snow
pukak: sugar snow
pokaktok: salt-like snow
miulik: sleet
massak: snow mixed with water
auksalak: melting snow
aniuk: snow for melting into water
akillukkak: soft snow
milik: very soft snow
mitailak: soft snow covering an opening in an ice floe
sillik: hard, crusty snow
kiksrukak: glazed snow in a thaw
mauya: snow that can be broken through
katiksunik: light snow
katiksugnik: light snow deep enough for walking
apuuak: snow patch
sisuuk: avalanche
There you go, 32. And, now that's what was found in a particular Inupiat to English dictionary. I can only guess that the guy who found it was an English-speaking person who searched a text file on "snow" and a few other things he could think of, like "sleet" and "frost". So I wouldn't be at all surprised if there were words and variations that weren't in the dictionary and words that weren't found because the English translation didn't mention "snow". Anyway, that was just one Eskimo dialect. Others get different, but similar sets of results. Around 30 root "lexemes" in another dialect. And those languages also seem to have a large number of possible inflections and conjugations and combinations based on the roots that could add up to hundreds of snow related words.