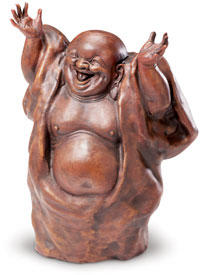 by Flemming Funch

Researchers studying laughter say that..
It's an instinctual survival tool for social animals, not an intellectual response to wit. It's not about getting the joke. It's about getting along. It's a way to make friends and also make clear who belongs where in the status hierarchy.
What I think is funny is the thought of serious scientists in lab coats wracking their brains to try to make sense out of laughter.

Are they right? Hm, I don't know. One can very well laugh for no reason at all. That's an old sort of meditation technique, for that matter. But that doesn't mean it is just a social thing.

What is humor? I'd say it is when one notices something that is off, out of place, and one notices it within a certain rhythm where it produces a freeing up of ... something ... emotional energy, I suppose we could say. It is not mental per se, but it does have something to do with perception, how one sees and experiences things. A joke is not per definition funny or not. All depends on the circumstances and the rhythm of delivery, and whether there's something that gets liberated from it. And something can well be liberated without any particular logical reason.

It is when you see the sillyness of reality, any kind of reality, imagined or not. It is when you look through the world and realize that it isn't really as serious and coherent as it pretends to be. It is a joke. It is a bit of enlightenment to notice that. Might have nothing directly to do with what somebody just said.

But just about getting along? I don't think I buy that. Why would one laugh alone, then?