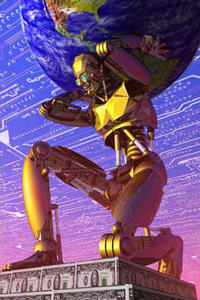 by Flemming Funch

I'm tired of being a hard worker, rather than a smart operator. I don't know where I picked it up, but I've for years had the strategy of a workaholic in denial. If I just work harder, and put in more hours, and I try to keep up with everything that is thrown at me, I'll be alright. And that worked fine for a long time. At some jobs I've had, people were puzzled that I could get so much done. But my secret was sometimes not much more than that I worked 80 hours per week, and they only worked 50. They slept 7 hours per night, and I managed with 5.

But it is also the choice between whether you're the guy who does the work, or the guy who makes the work happen. I've been a supervisor, and led and managed teams of people, but I've somehow managed to always keep the attitude that I was the guy who'd do the work. Like, for one large programming project, I had five programmers, but it was still me who came in Saturdays, and who took the work home, and who ended up having written 90% of the code. Several times I've been given the choice on whether I'd be the manager or whether I'd be the techie, and I usually chose to be the chief techie.

But where it goes wrong is in the knowledge work of knowing what exactly you're doing, why you're doing it, and what the best ways of doing things are, including who best to delegate it to. Just oneself working harder is often a pretty dumb approach. What has sometimes happened to me is that I've been so busy with my nose to the grindstone, that I didn't notice that everybody else around me got really busy jockeying for position, writing reports, making presentations, protecting their territories, covering their asses, gathering really good information about what they should or shouldn't be doing. And suddenly I realize I have 15 bosses telling me what to do, and I'm the only guy who actually works, and there aren't hours enough in the day to do what everybody wants. And I had spent zero time on maneuvering around and negotiating things, so I have no political leverage.

Recently there was this one part of a bigger programming project I just couldn't seem to get around to. It was writing a very efficient SMTP mailing engine in C. Normally I do PHP programming nowadays. My C coding skills were extremely rusty, and I sort of needed to study up on what to do, and how to do a multi-threaded program. And I kept saying that I hoped to get to it next week. And they were very patient, but after about a year of that, they figured it wasn't going to happen, and instead of using my system they went out and spent 1/2 million dollars elsewhere, on another system doing roughly the same thing as what I had written for them, but which had solved that particular mailing problem. And the ridulous thing is that the piece I needed could have been coded in about a month by an experienced C programmer. And if I had told them that I needed another programmer, they would have said "Yes, of course". But I didn't. I just tried to work harder.

Enough. Time for a different strategy. More with less.