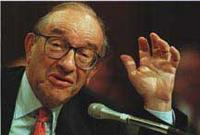 by Flemming Funch

Via Seeing the Forrest, from an AP News Story:
"Federal Reserve Chairman Alan Greenspan said Thursday that Congress should make President Bush's tax cuts permanent and cover the $1 trillion price by trimming future benefits in Social Security and other entitlement programs."
What a great idea. Particularly since the social security funds have long since been lent to the U.S. government and only exist in the form of bonds, and thus there would be less reason to ever pay them back.