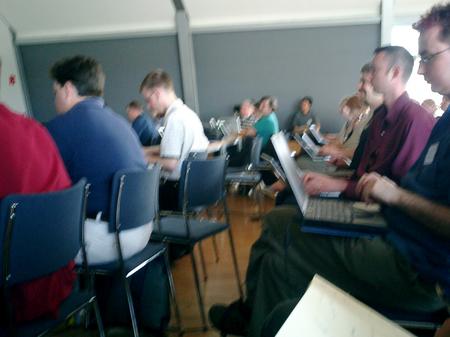 by Flemming Funch

Now, those of you don't go to tech conferences, or who haven't recently, might not be aware of how it works nowadays. In a conference that has a significant number of bloggers present it would now be completely unheard of if there weren't an open WiFi network in the conference room. Which means, essentially, you open your laptop and you're on the net. Which means that about one out of two people there has a laptop running. The lucky people who manage to grab a seat at the two rows of tables at the front can actually sit at a desk and are most likely to be able to plug in. And now, this is suddenly a different kind of audience. They look up people's URLs right away, they browse the scheduled program, reference materials, check the validity of what people are saying, and share maps for the suggested lunch locatioin. There's a wiki with information about participants, which anybody can update. There's an IRC chat channel, so one can talk to each other, both people who're there, and those who watch the live feed at home. People on macs (more than 1/2) automatically see other people there on iChat, and can collaborate on writing notes in SubEthaEdit. If people are bored with the presentation, they check their e-mail or browse the web for totally unrelated things. A bunch of people blog live right there. I.e. they write about what they hear, and have often posted about a talk before it even is done. Based on the trackback mechanism, others can see which weblog postings have happened that refer to the conference, right away, and will most likely have read it shortly after it appears.

Is that all useful? In many ways it is. It provides more channels of information, and makes what otherwise would be a one-way speech into something more interactive. You can discuss amongst yourselves, voice your opinion, your disagreements, provide contrasting information, etc. You can also miss half of the talk, of course, but somehow you're likely to get it back from other channels.

It doesn't always work. The net connection was obviously rather overloaded here half the time. And people now take it so for granted that any problems tend to be met with a lot of comments and postings about the outrage of providing only a spotty connection.

Anyway, those of you who go to these things know all this of course, so this was more for the benefit of those who might consider such a format strange and unexpected.

More from another angle from another participant, Suw Charman, here.

Wien in general has excellent public connectivity. There are a large number of open WiFi networks. You can sit down at many cafes or squares and plug directly into the net for free. And this hotel I'm at has a free network you just plug into. Many other cities could learn from that.

OK, I did have some problems at first. I had somehow packed a little quickly, and somehow got off without an ethernet network cable, and I somehow grabbed the U.S. type power cable for my laptop, without getting a converter plug. So the first evening I couldn't get into anything. I tried some of the public nets, but the one at the nearby Museums Quartier was incidentally down at that time, and when I found one by a McDonalds, it turned out to be one of those one had to register for, even though it was free, and I couldn't get the code without an Austrian cellphone. But I got all that remedied in the morning, after a quick trip to a computer store.