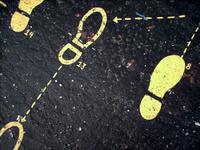 by Flemming Funch

From Seb Paquet:
Kevin Kelly asks:

"What are the best how-to books, videos, software, websites that you've ever seen? I don't care what the topic is, I am primarily interested in the execution."

Building a distributed body of how-tos would be another great application of structured blogging. Paging Marc Canter: must add Open How-Tos to your list of digital lifestyle standards.

Update: Jeremy picks up the digital lifestyle aggregator idea:

"Now imagine that profile as a sort of e-portfolio, containing most of the stuff you careed about, things you were thinking about, connecting you to everyone else who wanted to learn the same things, helping you find the information and resources that would help you learn... "
Yes, yes, yes. Of course we need all of that. A comprehensive open archive of the how-tos for ... most everything. And an easy way of finding everybody who want to do the same things. And we might actually get to work.