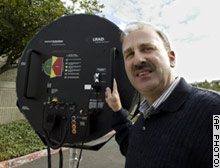 by Flemming Funch

Below is a letter, from an e-mail, from a regular woman who's daughther was held for several days in a containment facility for temporary political prisoners, without access to telephones or legal representation. In New York. A facility run, apparently, by the Republican National Committee. The young lady made the mistake of walking though a park on a day when thousands of protesters were being rounded up and locked away, so that the Republican Convention could, eh, do its thing. Lots more of the kind from indymedia.

At the same time, the NYPD is testing its new long range sound weapon. Well, really it was made for violent mobs in Iraq. But, hey, works great for random people walking on the street in New York too. Some of them might be Democrats.

I'm increasingly glad I now live out here in the free world, in a place where one is allowed to demonstrate, with police protection, and where there are free elections and human rights.


---
"My 21-year old daughter disappeared from NYC last Tuesday afternoon when walking with friends through a park where no protest was being held -- and was held prisoner -- without being charged -- by the NYPD for three days. The first day and night she spent in an unsafe and inhumane facility at Pier 57 ("Little Guantanamo") provided by the Republican Party.

Yes, it was managed by the Republican National Committe. It was leased by the RNC to hold political dissenters who disagreed with the Bush administration. The second two days, my daughter was in a city jail in Manhattan, where her treatment improved. She practices Buddhist precepts of compassion (she told the NYPD officers that she knew they must be tired and overworked also, and she did not resist arrest). She is a graduate student in Poli Sci at the University of Hawaii and is a MortarBoard honor society/service club member.

The notorious Pier 57 (owned by the Hudson River Trust--a city/state consortium) was dubbed "Little Guantanamo" by reporters who also got caught up in police sweeps and who said it looked like the Guantanamo Bay prison built by the USA to hold the Al Qaeda terrorist political prisoners in Cuba. Pier 57 was leased by the RNC before their convention. They arranged for the NYPD to put up the chain link holding pens with razor wire on top in the old Pier 57 warehouse that had oil, gas and asbestos dust on the floor from a previous fire.

My heart was in my throat when I got a call from one of my daughter's friends on Oahu who told me she had been arrested and taken to Little Guantanamo. I looked it up on the internet and fear crept into me. I called my daughter's cell phone over and over ("it's mom, where ARE you, call me"). She didn't answer. Only hours before, she had been calling us with joy, telling us of the peaceful protests and beautiful march. But now, nothing. I had nightmarish visions of a fire sweeping over the combustible floor with hundreds -- nearly a thousand -- trapped in the chainlink pens, razor wire on the top of the pens making escape impossible. My husband called the NYPD to ask who had issued a Certificate of Occupancy or Fire Safety Inspection Certificate and who was managing Pier 57. He was given the number for the Republican National Committee. Yes. My husband and I looked at each other in silent, cold horror.

In America? The Republicans have set up a private detention camp for their political prisoners that can hold 1000 under inhumane and unsafe conditions!? My husband slowly dialed that number, got the RNC, and the Republican rep who answered the phone said, in answer to my husbands' inquiries about safety: "those protesters don't deserve a Holiday Inn, and they're all criminals anyway!" ....Say what?! My daughter, who doesn't smoke or drink or do drugs and is a practicing Buddhist Vegan? A criminal? Warning signs that reporters saw posted around Pier 57 said not to enter without protective clothing and mask. My exhausted daughter, with hundreds of others, tried to sleep that first night ...on the chemical-covered oily, cold cement floor of these pens, without food or water, without being read her rights, without being offered a chance to post bail, without seeing a judge although the National Lawyers Guild offered to represent them pro bono, without being charged or told why she was arrested and handcuffed and taken there, without being allowed to make a call to a lawyer or friend or parent or anyone -- all cell phones were confiscated as "terrorist weapons." Her purse was taken. She had nothing but the clothes on her back. Meanwhile...ordinary criminals arrested that same day in NYC for burglary, rape and heinous crimes were processed by the courts in less than 10 hours. My daughter, who had committed no crime, was incarcerated for three days incommunicado.

People suffered chemical burns, bug bites, overcrowding and medical problems because their medicine was confiscated. A pregnant woman sat crying on the floor in the oil. It wasn't until my daughter was taken out of the Republican-managed "Little Guantanamo" and placed in a cell in a Manhattan city jail that a guard kindly brought her Vegan food and gave her a blanket to lay her grime-smeared body on at night in her crowded cell. I never thought I'd be grateful to get a call from a friend saying that my daughter was in a Manhattan city jail cell, but the knowledge that she was out of that Little Guantanamo actually gave me relief. I called Hawaii's Republican Party Headquarters, and asked them to report it to Hawaii's Governor Linda Lingle, who was at the convention in NYC and could intervene for my daughter and other UH students incarcerated illegally by her party. The

Republican rep woman who answered the phone told me "Linda knows, and you're blowing it all out of proportion." Say What!! That's MY daughter, not YOURS, sitting in that instant-conflagration-fire-trap at Pier 57! Well, thanks a BUNCH, Linda Lingle. The UH students mean that LITTLE to you???

The Republicans wanted to "teach those protesters a lesson." They wanted to terrorize my daughter. But the lesson that the hundreds and hundreds of prisoners were taught... was not the one that the Republican Party intended, I would wager. My daughter had gone to NYC to walk in the peaceful protest of 500K people the day before the Republican National Convention began. She was not engaged in protest at the time of her arrest. She had been walking with friends near a park. There was no protest in action when they were arrested along with tourists and city employees going to work.

Anyone caught in the NYPD orange fence netting was told to sit on the ground, handcuffed, and pushed into large NYC busses. Our sweet daughter, born and brought up in a small rainforest in Hawaii, was placed in detention at Pier 57, the notorious "Little Guantanomo." I recall that when the Democrats held their convention to nominate Senator John Kerry as their candidate for President, there were only 6 people arrested, if I remember correctly. At the Republican National Convention to elect Bush as their candidate, there were thousands arrested. I suspect that Republicans might say this was a good thing. Being tough. This group-roundup tactic is called

by the Republican party "preventative detention" (like the "pre-emptive war" in Iraq). It is used to terrorize those who might protest Bush's agenda when he is in town. America, wake up. Hitler told the German people that they would have to "give up a few of your rights ...temporarily...so that we can fight the enemy." That's what Ashcroft said, about the misnamed PATRIOT ACT. Wake up, America. The American flag that proudly waves by MY front gate and is on the back window of MY car...doesn't seem to be the same American flag that the Republican Party is waving."

-- Erin Starr, Makawao, Maui, Hawaii