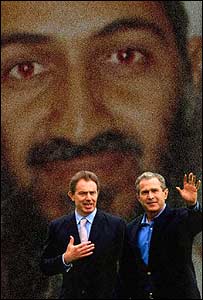 by Flemming Funch

I just finished watching the third part of a BBC series called The Power of Nightmares: Baby It's Cold Outside, broadcast in the past three weeks. It was made by Adam Curtis. I'm sure it must have been difficult to get such a controversial thing on the air. The series makes a compelling case for concluding that the world has been seriously misled by fanatics who have painted a nightmare picture that has nothing to do with reality. And that they have done so merely to serve their own political and religious ends.

We track two movements: the U.S. Neo Conservatives and certain militant radical muslim factions. The videos do a good job at laying out their histories and philosophies and key players.

Ironically, their aims are very similar. They are groups that were horrified by the path that free societies seemed to take. What they deemed to be the moral corruption that they observed around them. Which they blamed on a society where anything goes and there were no uniform moral values. The moral decay of a liberal society. They first thought the fault was with the leaders of their societies. But they found that even when their own kind managed to seize power, it didn't change things. So they blamed the people in their regions. It was simply that everybody were too dumb and corrupted to see the truth of how they were supposed to behave. Too much freedom, and too little to guide them. So they came up with the solution. Invent a battle between good and evil. Find an enemy and paint the most nightmarish possible visions of their sinister motives and the extent of their power. Mobilize your people against the enemy, driven by the fear of what they can do to you.

But in the late 90s it wasn't really working for any of those groups. They had essentialy failed and had little public support anywhere. Until 2001 where both groups got an enormously lucky break. Somebody brought down the WTC. One group suddenly has the evil sinister enemy they had been seeking, and the other suddenly has the attention of millions of people, where before they didn't.
The Power of Nightmares began as an investigation of something else, the rise of modern American conservatism. Curtis was interested in Leo Strauss, a political philosopher at the university of Chicago in the 50s who rejected the liberalism of postwar America as amoral and who thought that the country could be rescued by a revived belief in America's unique role to battle evil in the world. Strauss's certainty and his emphasis on the use of grand myths as a higher form of political propaganda created a group of influential disciples such as Paul Wolfowitz, now the US deputy defence secretary. They came to prominence by talking up the Russian threat during the cold war and have applied a similar strategy in the war on terror.

As Curtis traced the rise of the "Straussians", he came to a conclusion that would form the basis for The Power of Nightmares. Straussian conservatism had a previously unsuspected amount in common with Islamism: from origins in the 50s, to a formative belief that liberalism was the enemy, to an actual period of Islamist-Straussian collaboration against the Soviet Union during the war in Afghanistan in the 80s (both movements have proved adept at finding new foes to keep them going). Although the Islamists and the Straussians have fallen out since then, as the attacks on America in 2001 graphically demonstrated, they are in another way, Curtis concludes, collaborating still: in sustaining the "fantasy" of the war on terror.

Which the film also provides quite some support for. There wasn't much of an Al-Qaida before 9/11. Bin-Ladin had to actually rent camouflage-clad gunmen for some of his videos, and tell them to bring their own guns. Because he didn't have much of a group. And there wasn't really much of an Al-Qaida after. A lot of middle-eastern looking folks have been detained for often very silly reasons. Accused of being sleeper cells because they took tourist videos in Disneyland. No fancy bunkers were found in Tora-Bora. Very few people have been charged with anything at all. Not that there aren't fanatical militant groups who'd love to attack the United States. And some of them might succeed. But the fantasy is the existence, extent and organization of one unified evil network.

You can see the series here:this.