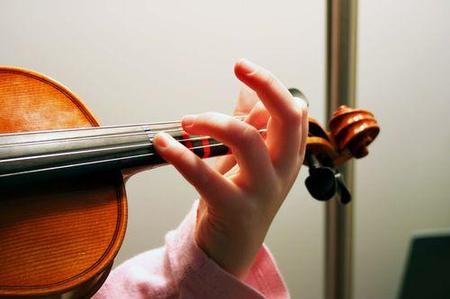 by Flemming Funch

My wife and I don't always see eye to eye on what it takes to learn something. I will quite readily accept that it might take years of hard work to acquire a particular skill. She will tend to think that an activity better start paying off right away, or it isn't really worth it. We both have some kind of point. Hers being in part that learning might as well be fun and rewarding from the beginning, and there's nothing noble about suffering through a process that won't provide a result before much later.

Learning is an important subject to me. I'd love to see better learning methods become available all around. I'm convinced that many things could be learned many times faster and much more thoroughly, if somebody would manage to understand how we learn, and would construct an approach that provided the required input and feedback. Instead, we're usually required to listen to somebody talking and look at some examples of the subject matter, and we're supposed to just learn from that. We do, but usually very slowly.

Until we have this learning robot that I can plug into, which will provide me instant feedback and just the right amount of repetition and variation, and which teaches the core structure of the matter, not all the random blahblah around it, it will take time.

People who've mastered a skill or a subject will know very well what kind of very substantial effort it took to get there. You're not playing classical violin in front of an audience unless you've practiced for years, hours and hours every day. You wouldn't be a stage magician with your own show if you hadn't practiced for thousands of hours to manipulate cards or coins until you do it so well that people don't see what you actually do. You won't be a Ph.D. unless you've digested a mountain of research in your particular field and you know pretty much everything that anybody else has said about it.

People who aren't in the process of mastering anything, or who haven't already done so, would tend to be very unaware of what it takes, and might even be quite likely to ridicule the work. Which is why it often happens out of sight.

My wife and I take dancing classes and enjoy going out dancing. But it is also an arena where our differences show up. In most partner dances, it is quite well known that the leaders and the followers have a quite different journey and different learning curve. The followers mostly focus on relaxing and not trying to anticipate what the leader will do. The leader on the other hand must know what to do, must know the sequence of steps and how to lead them and when to do them. Which obviously he can't do well from day one.

I hate the uncomfortable feeling of being a klutz who doesn't know what to do in a beginner class. Particularly if it seems to be easier for other people. And I'm really not fast at getting something new at first. My approach to keeping up will often be to put in an extra effort, study up on it in my own time, take the beginner class two or three times if I can.

I had started this dance that my wife wasn't yet doing at the time, West Coast Swing. I loved it right away, and decided to do what it took to learn it, even though it is considered quite difficult. So, I put in some extra effort, went to weekend workshops in a addition to the regular classes, watched videos, etc.

And now, here's the thing, that wouldn't go on for more than a few months before my wife would start making remarks like "You must be an expert by now, with all those classes you're taking". Or, when I'm signing up for another weekend class next month: "Do you really need to be an expert?".

If I wanted to be an expert and really master something, I should be practicing it for some hours every day. Not some hours every second weekend.

Many well-meaning people will be very interested when a friend or family member starts to learn something new. "You should give us a show!", "When are you going to perform?" two weeks after somebody starts learning to dance or play the violin.

There are surely activities that might be worth watching even when done by beginners. Most are not.

Some people (Malcolm Gladwell) say that you need to practice something for 10,000 hours to master it. That number is completely arbitrary and probably unfounded, but it gives the idea. That's something like 40 hours per week for 5 years. And doing that mindlessly, repeating the same actions over and over, surely wouldn't do it either.

Many people think they're not gifted or not able to learn, because they tried something a couple of times and they didn't succeed. You know, they tried making a drawing and it wasn't good. They obviously have no clue what it would take to succeed. Probably to a certain degree it is the fault of a general anti-mastery atmosphere. Or, we could say, a need for instant gratification. We celebrate people who've mastered fantastic skills, but we usually render the required work completely invisible, leaving the illusion that the mastery somehow was easy or didn't take much time.

Some people show up for the audition in American Idol or So You Think You Can Dance after having practiced for hours per day for years, and they do great. The show makes it look like they do what they do in a few days. Obviously the illusion fools enough people that some people will show up to the same auditions never having practiced anything, thinking they have a chance, and the only chance they get is to look like complete idiots in front of millions of people.

So, if you should be an expert by now, you should obviously have started years ago and have worked on it every day. It takes a lot of practice. And not just repetition of stuff one is trying to do, or that one is repeating in the wrong way. It takes attentive exploration of all aspects of what one is trying to learn. Getting to understand deeply why one has difficulty with some particular part, and how one can overcome it. And then moving on to some other part.

Most people who're really passionate about something, or who are trying to master something, will have a great need to talk about it or think about it. And, there again, unless they're surrounded by people who're passionate about the same thing or learning the same thing, they'll probably find that others have a very limited patience for this. We're used to the TV format. Sure, we'd like to see your audition, and a couple of snapshots of you practicing, and a few soundbites of you talking about your challenges, and then we'd like to see your performance, preferably flawless. But that's of course not really what has been going on. Again, they'd have been working on it for years, every day.

I'm writing in a blog here. Blogs could be a format for talking about what one really is working on, and others might be interested if they're on the same path. But not if they aren't. If you have a somewhat general blog, like this one, and you suddenly get passionate about something specific, and you start writing about that all the time, you would probably lose most of the audience. For example, I was really into aquaponics a couple of years ago. That meant that I spent hours every day doing research, trying to solve problems, or constructing things in the garage or in my greenhouse. I have written about that in other places. I could very well have written several posts here every day, but I didn't, because it would be much too much for most people. Right now I'm passionate about dance, and I could write about that every day. I don't, or I only do it in my private notes.

If you don't already have it, it would be a good idea to seek out a forum where your passion and your learning actually is welcome, also at great length. That's maybe really obvious to some who already have it, but not to others who didn't know where to look. You'd want to communicate with people who're on a similar level of involvement with the subject, or who would like to be. People immediately around you are not likely to follow you, so you might have to go out of the way to find the others. And if what you're into is something really specialized, it is quite possible that you won't find anybody else in the world who's deeply into that. Don't let that stop you. Later on, when you've succeeded, everybody will show up to congratulate you, including those who didn't really have the patience for you working so much on it, or who even tried to talk you out of it.