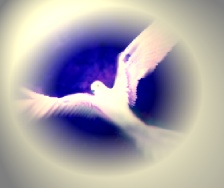 by Flemming Funch

My friend "Aley", Diane Dornbusch, long time NCN member, was killed in a car accident last Tuesday, the 28th.

It is always strange when somebody dies. Sometimes a big blow, sometimes it seems a natural progression. In Aley's case, it feels like she's happy where she is, and I didn't feel like there is anything to be depressed about. She had a full life and was an inspiring and creative person.

You can see her art gallery here: [link]

Bye for now, Aley, and see you somewhere, sometime in a magical mushroom forest somewhere!

OBITUARY
DIANE BARBARA DORNBUSCH
1943-2001

Diane Barbara Dornbusch of Kincardine, Ontario died suddenly in a car accident August 28, 2001 on Bruce County Road 17 near Tara Ontario.

She was born January 22, 1943 to the late Cecil and Vivian Henderson in Port Arthur, Ontario (now a part of Thunder Bay). Diane held the distinction in that city of being the first ever female radio show host. In 1959 she married Hans R. Dornbusch, also of Thunder Bay. Together they continued to live in Northern Ontario in a landscape that she loved, and that inspired her artistic spirit.

In 1968, after brief sojourns in other parts of Southern Ontario, Diane and Hans moved to Port Elgin, where Diane took delight in tending her gardens, her beloved collies and their two young daughters, Lorraine and Erica. In 1973, the family settled in Kincardine.

Diane was a talented artist who worked in many mediums. Her creative expression was evident in everything she did, from knitting sweaters and baking bread, to landscape design and writing. Her paintings are in private collections around the world. Most recently, Diane found her niche in painting with enamels on porcelain, and at the time of her death was completing commissions from Kincardine, San Diego and Montreal.

Diane's spiritual community was global in its scope. She has kindred spirits and dear friends in such far-flung places as Tasmania, Bali, California, Montreal, London, and India. They celebrate Aley's memory.

Diane will be sadly missed by her husband Hans, daughters Lorraine Breckon and husband Kent Ball of Oakville, and Erica Dornbusch and husband Ken Steele of London, along with five grandchildren: Sarah, Heather, and Tyler Breckon of Oakville, and Kaitlyn and Taylor Steele of London. Diane is survived by twin sister Ruth Hawkes and Husband Ron of Woodstock, New Brunswick, and sister Arlene McCarrell and Husband Everett of Fergus, Ontario. She will be fondly remembered by nieces, nephews, and extended family members across Canada. Diane is predeceased by brother Keith Henderson, and parents Cecil and Vivian Henderson.

Arrangements were in the care of the Davey-Linklater Funeral Home, Kincardine, with interment in the Kincardine Cemetery.