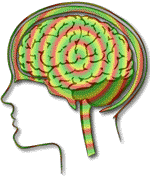 by Flemming Funch

Days are all different it seems. Today everything was up in the air for me, not having a handle on anything. Until I went to my Dahn (Korean yoga kind of thing) class and did chakra exercises. Made me stop thinking, I guess. Which is often a good thing.


Did you know that quite a number of apparently quite normal people have been found to have no brain in their skull? It is a medical curiosity that is apparently well known, but little mentioned, amongst neurologists. It was studied intensively by the late Dr.John Lorber of Sheffield University in the 70s, who located hundreds of people with normal lives and intelligence, but with heads filled with liquid rather than grey matter. I'm not kidding.


There are more black men in Texas prisons than in college says a study. And, no, I don't think it is because prisons are better funded than colleges. I think it is because the U.S. government has worked so hard to make drug dealing a very lucrative, but unsafe, line of business to be in.


The website of RIAA, the music industry's mouthpiece was hacked today. I guess we can call that.. eh.. karma. The RIAA has bribed some U.S. congressmen (specifically Representative Howard Berman) to push legislation that would allow them to freely hack and sabotage anybody who might be copying music files they could have bought on CD.


A piece of tribal wisdom from the Dakota Indians:
"When you discover that you are riding a dead horse,
the best strategy is to dismount."


EFF, Electronic Frontier Foundation promotes the Open Audio License (OAL), which helps artists share their work more widely, and helps them take control over their own art and be compensated appropriately for their works.


Note to self: I need to read up on Friedrich Hayek's theories of economics and social order. But there's not enough hours in the day to read big books.