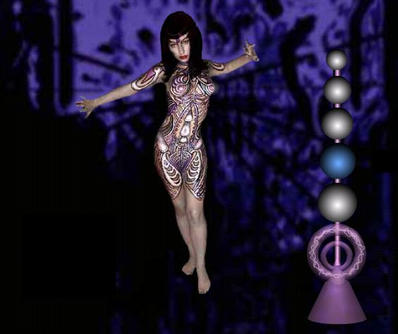 by Flemming Funch
My friend Paul Hersey has one of the most enjoyable user interfaces I know on his home page. Meet Electric Liz. He did both the body painting and the Flash animation himself. Click on the bullets and different things happen for each one.


So, what is good design for webpages? Jakob Nielsen is the guru on web usability. Much interesting stuff there. Like Don't Listen to Users. I.e. watch what people do and see what works and doesn't work for them - don't just ask them what they want. Hm, that does bring to mind a very similar principle I was evangelizing when leading a group of programmers developing a big insurance claim processing system years ago. Listen to what people do and what they're trying to accomplish, watch what they actually do, and then go off and figure out how best to serve them. How about the Eyetracking Study of Web Readers. People's eyes jump around, look at headings, graphics. People often have several windows open and jump back and forth between them. Users don't just "visit a site". They are likely to jump around between sites, and be in several sites at once. Good design must accommodate that people come and go frequently, and must make it quick and easy to reorient oneself.


The Internet will eventually change everything about how companies do business. But it is unfortunately still possible to trick and bully people into buying overpriced mediocre products from dishonest people. Slashdot reports how Robert Novak, the owner of Pets Warehouse, has filed a $15 mill lawsuit against some individuals who commented about his company's poor service on a mailing list. And several little people unable to mount the legal defense have been forced to settle and pay the guy money or give him their websites. Just to let you know. Shop somewhere else.


I noticed in my server logs that there are people coming to my personal page from The Useless Wackos site, which lists the worst wackos the guy could find on the net. Well, the list is a couple of years old, but he obviously thought I was a good candidate. I bet I know a few of the other guys too. At least I've been a member of all the three top-rated wacko religions he lists, and the creator of one of them came to one of my events once. ... Geez, and its not the only one, I'm also one of the weirdest sites on the net.


Well, Hahah, I don't care, because I'm the number one authority on Transformation on the Internet, according to Google. #1 out of 4,370,000 websites that say anything about it. That's actually more scary than being one of the worst kooks. I'm not sure I believe my website is really the best place in the world to go and study transformation. For one thing, most of it hasn't been updated for years. But in Google's algorithms, what makes a big difference is how many other sites are linking to a certain site, and how many other sites are linking to them. And around 900 other sites, many of them very popular, have links pointing to mine.


Do you remember, when you were a child, the sun was yellow? Have you noticed that now it is white?


Dialtones - A Telesymphony was a concert performed entirely by the audience's ringing cellphones. Through an elaborate system of hardware and software the result became something rather remarkable.