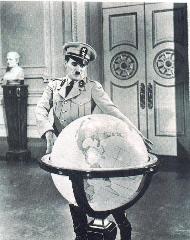 by Flemming Funch
"The resolution before us today is not only a product of haste; it is also a product of presidential hubris. This resolution is breathtaking in its scope. It redefines the nature of defense, and reinterprets the Constitution to suit the will of the Executive Branch. It would give the President blanket authority to launch a unilateral preemptive attack on a sovereign nation that is perceived to be a threat to the United States. This is an unprecedented and unfounded interpretation of the President's authority under the Constitution, not to mention the fact that it stands the charter of the United Nations on its head." --Senator Robert Byrd to the U.S. Senate, October 3, 2002


John Perry Barlow: The American Republic is dead. Hail the American Empire. Or else. Excellent commentary on George Bush's coup and the Orwellian media manipulation. "Today, as he signed his coronation decree, he lied, "I have not ordered the use of force. I hope the use of force will not become necessary." But, folks, he *has* ordered the use of force and began doing so shortly after seizing office. Though you'd scarcely know it to read the papers, we've been bombing the crap out of Southern Iraq since February 16, 2001, when we hit five radar installations in the vicinity of Baghdad. Since then, the bombing has been increasing steadily. There have been 48 bombing raids south of the "no-fly zone" so far this year. Iraq claims that 1300 civilians have been killed in these bombings - and, while I doubt that number, many of these casualties have been confirmed by international observers. I'll bet the last thing those innocent wretches saw looked a lot like force to them.

"It is not simply that we have made a Caesar of Bush, we have, in effect, assented to allowing him the entire world as his Empire. What this resolution is truly about is the elimination of all sovereignty but our own. This is about our becoming the Dad of the World. Having declared ourselves immune from international prosecution for war crimes, we have proposed our right to disregard the sovereignty of any country that, in our opinion, doesn't deserve it."


George Orwell, "1984":
"War is Peace"
"Freedom is Slavery"
"Ignorance is Strength"