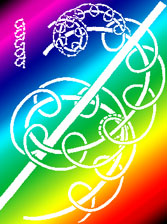 by Flemming Funch

Dan Winter is a sacred geometry genius. He speaks and writes a mile a minute and I can't exactly follow most of what he's saying. But some of it intuitively makes great sense. One thing he often talks about is self embedding, and there's a point there which I think is very important. I can't grasp the math, so bear with my more simplistic and possibly naive version.

Multiple waves can co-exist in the same space, if they're in harmony, so to speak. If they're not in harmony they might sort of collide, but under certain circumstances the waves all sort of fit into the same space. Multiple harmonics form a unified tone. Multiple waves form one wave form which represents all of them at once.

Potentially you can pack a lot of information into a very small place if it all embeds into each other. It can travel together in a very compact form. And you can reverse it and get it all back again. So, it is non-destructive.

Fractals fit in here. A very simple recursive formula might produce something very complex. The complexity is embedded into itself in the form of a simplicity, so to speak.

Now, metaphysically or spiritually speaking, that might have something to do with self-awareness and with eternal life. If you can embed all that you are into itself in a non-destructive way, you can go through the eye of the needle, and remain intact and conscious even if you travel to another universe. Through a black hole, say.

And the point I wanted to get to here right now is that a group of diverse people with diverse talents might function well as a group if the characteristics of the members embed well into each other. Or, reversely, if they can all function as variations of the same fractal principle. There's a harmony that might take place, which isn't agreement per se. It is more that everything sort of fits together in a very economical way.

If you come in during the day and I come in during the night, we can fit in the same office. If I get a lot of mail from foreign lands, and you collect stamps, and another person recycles paper, it all fits together. If I walk across a chasm, I don't really need a 20,000 ton bridge - I just need something under my foot in the exact place where I put it at any given moment. Am I making any sense?