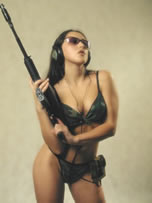 by Flemming Funch

Part of what keeps us all from living in an entirely peaceful world is that, if we're honest about it, most of us find guns and violence and war very entertaining. War makes for great programs on the History Channel. Violence makes for great action movies, and most of us cheer when the good guy kills the bad guy at the end. Guns are kind of cool and sexy. It is a powerful feeling to shoot a gun. Part of what motivates people to be police officers or soldiers is that you drive fast, or fly expensive toys, and you chase bad guys and you blow things up.

But what we like is exactly the game aspect of it. The thrill and risk, the power, the rush, the gadgetry, the stimulating special effects. But if we are really exposed to the effects of violence and war, very, very few of us would think that it is cool. Just one bullet, or the tiniest of bombs, do horrible things to human bodies. Just one life lost, or one life lived as an invalid, can be a huge tragedy for the people involved. The only way we accept it as a society is to be detached from it, by just watching it on TV and thinking about it abstractly. Yeah, let's go whip Saddam's ass real good. Looks good on TV. But we aren't able to fathom the scope of what several hundred thousand dead Iraqi children means. It is just numbers. And most Americans have never even heard about those numbers.

We'll have to embrace our desire for action and violence, and provide for it, without leaving all those innocent victims behind. I hear people giving visions of the future where there is no violence. "In the New Civilization there must be no violence!" Aha, ok, then what are you going to do with the people who want it? Outlaw boxing and wrestling? Action movies? Body piercing? Jackass stunts? That's all violent stuff, but it is violence that people volunteer for. And it is entertaining. Hoping that nobody will be interested in watching it just isn't going to work. Finding a harmonious relation between all sides of ourselves is more likely to take us somewhere.