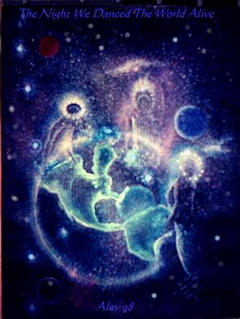 by Flemming Funch

I just realized that people I knew who had websites and who died, and who's websites STILL are up, seem, well... less dead. My referer logs still show quite a few people coming from Sasha Chislenko's Great Thinkers and Visionaries page. Which is still excellent, and I'm glad somebody is keeping it up in his memory. And somehow he doesn't quite feel gone, because his website is still up. Nicholas Albery died suddenly too, but the Global Ideas Bank is still continuing as before in other people's capable hands, and is still on my server. But somehow, because our relationship was virtual, I wouldn't be terribly surprised if I suddenly got an e-mail from Nicholas. Another dear friend with a site on my server, Diane Dornbusch, is also no longer with us. And I haven't even cancelled these people's accounts on NCN or anything, because I didn't know what to do with them. Their accomplishments still stand, their websites are still up. You just can't send them e-mail.

When I die, I'd certainly want to continue existing in cyberspace. But now, my point is, a weblog is not necessarily a good format to exist in, if you aren't updating it any longer. It is not a very eternal format. It deserves to be preserved as a historical resource, but if not seen in relation to fresh material, it gets to look dated really quickly.

So, if the material in a weblog could flow, not only into a chronological and categorized and indexed archive, but into something like a mind map. Maybe not all of it, and maybe not looking the same, but I want something that allows me to fill out a mind map of what I'm about and what I've learned, in the same breath I use for posting in my log. It needs to feel integrated, but it would flow into two very different presentation formats. And one of them will be of more eternal value than the other. Maybe, if I will no longer be posting live material, somebody can flick a switch, and it is a different view that is presented as the front to my weblog. Instant Memorial Library, rather than Faded Newspaper of Last Year.