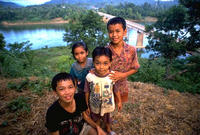 by Flemming Funch

The Jhai Foundation is working on providing Internet access for remote villages in Laos. They've put together a system where sturdy low-wattage computers can be powered by a foot-crank, and a system in each village can be linked with the others, and with the net, through high-bandwidth wireless networking.
"Farmers in Ban Phon Kam and nearby villages are now able to grow surpluses of rice and other crops-thanks in part to organic farming techniques that Jhai helped introduce. To profit on their surplus, however, they need accurate and timely information about pricing in the market town of Phon Hong and the capital, Vientiane.

The expert women weavers in the villages have begun the use of natural dyes-again with assistance from Jhai-and would like to weave textiles for export. They hope to find partners among expatriate Lao who will help them market their weavings and receive reasonable returns."
Lee Felsenstein, veteran computer hero, is helping them. Right now they need some funds ($25,000) to get the basic system in place before the monsoon season.