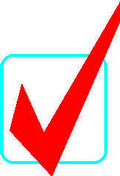 by Flemming Funch
"Time is that quality of nature that keeps events from happening all at once. Lately it doesn't seem to be working." --Anonymous

My copy of "Getting Things Done" by David Allen arrived today. Matt Mower recommended it. I'm excited. I paged through it and read the first chapter. It might just keep me from going insane. It is all about unloading ALL the stuff floating around in your mind which you sense you ought to be doing something about, and putting them into a system you can trust to be able to find them in again, so that you can relax and enjoy life in the moment without worrying about mountains of incomplete and ill-defined tasks.
"There is usually an inverse proportion between how much something is on your mind and how much it's getting done."
It is close to 20 years ago since I last felt really organized. It involved In-, Pending- and Out-baskets on my desk. It involved daily to-do lists, with items I could happily check off during the day. It involved a routine of Do It, Delegate It, File It, or Toss It, with every item that came to me. And it involved a filing cabinet with folders with nice labels on. Unfortunately the world has changed since then. It was before e-mail and cellphones for one thing. And everything is now more fast, more fuzzy, more multi-dimensional, and there's a hundred times more of everything. Something better is needed. I think I once again have hope, that I might possibly once more become organized and stress-free.