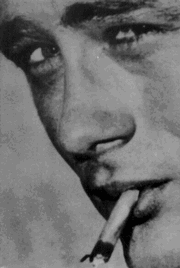 by Flemming Funch

It is a couple of years since I sold my motorcycle and started driving a car again. Don't have a good reason to wear a leather jacket. And I haven't had a cigarette for a year or so. I'm a bit afraid I'm losing touch with my more rebellious side. Well, I kind of have a need for balancing things out, because people too easily assume I'm just this nice, decent, boring guy, and they get shocked if I say fuck or something. Well, maybe I just AM nice and boring, and I just imagine myself being a rebel. I don't know. But as to the smoking, now being pretty much a non-smoker, I can safely mention that a fairly significant motivation for me to smoke was to protest the nearly total brainwashing of the American population on that subject. Nobody believed it when I was smoking, that it would be my small way of giving a raised middle finger to the media-driven American bourgeoisie. Yeah, a pathetic small finger maybe, but nevertheless. A vote for freedom. Mostly I smoked because I enjoyed it, and because the plusses outweighed the minuses at the time. Smoking is very addictive. I'd believe it is as addictive as heroin. Very hard to stop. And you smell like an ashtray and you've got to work harder to be in shape. I don't think anybody actually thinks smoking is healthy. But, well, it isn't healthy either to drive sports cars, or to skydive or to go river rafting or to walk around barefooted in the Amazon jungle. Messy, dangerous, and fun. There are a lot of things that make life more full, more exciting, more worth living. Many of those things require that one accepts the possibility of death. But in the United States, billions of dollars of advertising and millions of reformed smokers have turned smoking into not just another risky but pleasurable choice, like whisky and mountain climbing, but into the most despised plague they can imagine. No dignity left in smoking in the U.S. I got really tired of otherwise well-meaning friends and strangers who again and again would walk up to me and say, essentially, "YOU'RE GOING TO DIE!!!". Well, I know I'm going to die. The death rate is 100%, both for smokers and non-smokers. But many ex-smokers, who themselves managed to quit only by implanting their own minds with horrible pictures of imminent death and great suffering associated with smoking, actually believe that it will help others that they curse them whenever they see them smoking. I'm sensitive to such things, as I'm trained in NLP and hypnosis, and I know very well what great power there is in the things we tell ourselves and others, particularly the things we say like we really mean it, and that we say again and again and again and again. And the power of peer pressure and advertising. So, American smokers are mostly a miserable lot by now, apologetic addicts who need to sneak outside on the sidewalk like homeless outcasts. Disheveled losers without will power. Good citizens will grimace and cough when they're within 50 feet, and will take their children over to the other sidewalk.


The statistics about the dangers of smoking appear to be mostly fabrications that well-meaning public health authorities have put together to say what they intuitively think they should say. Oh, any smoker can tell you that there are negative health effects from smoking. It is harder to get up in the morning. You get exhausted faster. You have a constant low-level infection in your lungs. You easily get to smoke much more than you really feel like. It would be quite logical to assume that you're more likely to develop lung diseases or heart problems. Actually it is rather miraculous and counter-intuitive that it even is possible to survive for decades, filling one's lungs with smoke through most of the day, without major incident for most people. Smoke filled with chemicals and pesticides and tar and soot. But the statistics aren't as cooperative as one would expect in backing up how obviously deadly that should be. The rate of lung disease is not particularly higher in countries with a high percentage of smokers. Some countries full of heavy smokers, like Japan, have extremely low levels of lung disease and very high life expectancy. Some countries, like Norway, with very few smokers do very badly on the heart disease statistics. And even in those same countries, when the number of smokers go down, the disease statistics don't necessarily. The numbers you see on billboards for "smoking deaths this year" and that kind of thing are usually made by somebody taking an arbitrary percentage of the deaths within certain categories of illness that potentially are related with smoking. Don't get me wrong. Everything else being equal, of course smoking affects health negatively. It is a shame that it is hard to come by any better information than the message that "YOU'RE GOING TO DIE!!!". Like information about how better to counteract the negative health effects of smoking. Antioxidants, for example. And information about all the junk chemicals added to tobacco. Anyway, there are many other things that affect people's health much more than what exactly they smoke or drink or eat. Whether they're happy, for example. Whether they're alive and fulfilled versus whether they're stressed and nervous and repressed. That's a lot more important.

Sorry for the rant. But non-smoking has become greatly over-rated. It doesn't make people healthy or happy. It is a red herring. You become healthy and happy by doing what is best for YOU, by getting more in touch with what YOU are about, by doing what gives meaning to your life, what makes you more fulfilled and alive. And really it is about living more fully. Maybe that doesn't even mean being healthy and happy for you. Living a great life might be very meaningful, even if you're struggling and unhealthy most of the way. Stirring things up is often a much better strategy than to just fit in and do what you're being told. Either way, its up to you. And hopefully there will be some freedom left somewhere to allow you to be you.