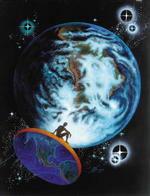 by Flemming Funch

Thinking is one subject I'm really interested in. Our ability to think abstractly is one of the key traits that define what a human is. Yet we seem to have little clue how we do it, or how we might do it better. Our future depends, of course, on what choices we arrive at, individually and collectively. And yet, most of us don't have any better strategy than picking the strongest thought that appears in our head, or our stomach, or wherever it appears, and assuming that this is our answer. Without examining where it came from, and without having the faintest clue as to HOW to think.

I got to *think* about that again, as I saw a page about Edward de Bono's latest book "Why So Stupid?" which seems to reflect just that dillemma, and apparently provide some answers. From the foreword:
"Maybe we have neglected thinking. Maybe we have taken it for granted. Maybe we have believed, and still believe, that there is nothing more that can be done about thinking. We have an excellent 'thinking system' and nothing more needs to be done.

That is where I disagree. We do have an excellent thinking system - but it is inadequate. Our thinking system is all directed at the past. We recognize standard situations and provide standard answers. We have never developed the creative thinking needed to design the way forward. Our thinking is excellent for technology and almost useless in human affairs."
I have several of de Bono's books, which are excellent. And yet I'm a bit suspicious about why somebody needs to write 65 books about essentially the same thing - creativity and thinking. But, whether he could really have said it all in one book, de Bono has some fine tools and insights to offer, and is an undisputed authority in that field. Here's another little tidbit from his website:
"The majority of mistakes in ordinary thinking (outside technical matters) are mistakes in perception. Our traditional emphasis on logic does little for perception. If the perception is inadequate no amount of excellence in logic will make up for that deficiency.

Perception is a matter of directing attention. If you are not looking in the right direction it does not matter how clever you are, you will not see what you need to see."
Right on. It doesn't matter if you eloquently and 'logically' can deduct yourself from one point to the next, if you didn't perceive what really is there, or you were looking at only a small part of it, or you were looking at the wrong thing. Most people have a certain innate sense of logic, but if the input is faulty, so is the result.