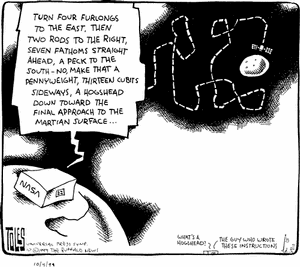 by Flemming Funch

I'm so looking forward to go back on the metric system. The world just fits so much better together when its measures actually make sense and have something to do with each other. In America the measures are arbitrary and have very little to do with each other. How many feet in a mile? How many ounces in a pound? I have no clue. It makes the world kind of disjointed to still use those mideaval measures. I notice how my perception of the measurability of the world has deteriorated while living here. Compared with how beautifully I perceived everything as fitting together when I was in high school. You know ...
An hour is the time it takes for a liter of boiling water to move one kilometer
OK, that's a joke, but that kind of thing. Interrelatedness. Here's a history of the metric system in the U.S., or rather the failure of it. There have been attempts of converting to metrics, but they were never enforced, so, together with Burma and Liberia, the U.S. remains in the middle ages in that regard.