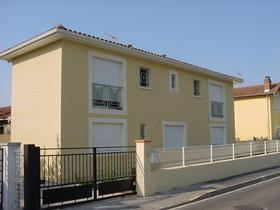 by Flemming Funch

Well, looks like we'll have a house to live in. I'll know for sure tomorrow.

It is not an old 17-room chateau on a mountain in a forest, but it is a fine place to start. A compromise, really, but I think one that my family and I can agree on. It is in the middle of Toulouse, pretty much, close to a Metro station and to other facilities that'll help at least some of us to not feel homesick. But still in a calm and open area. It is an almost new house, equipped with a bunch of things one normally has to acquire oneself in most French houses. Like, a kitchen doesn't automatically have a stove or cupboards here, let alone dishwasher and fridge, etc. Only when it is 'équipé'. Anyway, this house is a good deal larger than what we lived in in L.A. and a good deal cheaper. Not much of a garden, but there are private areas, at least.

So, we're moving in the 1st of August, if the landlord approves my paperwork. That in itself was a bit of a trial. Oh, it went remarkably smoothly, and the real estate agent and the landlord and everybody's extremely nice, but it is a bit nerve-wracking for me still to make negotiations using only French, some of them over the phone, trying to understand all of it, and to try to fit with the requirements. The French love paper. In this case they needed a bit of paperwork to show that I actually was making money. Hopefully I gave them something that is satisfactory, even though I didn't have the french forms they were looking for.

This was the very first house I made a call on and that we made an appointment to see with the owner. And there was a bit of synchronicity involved. I had decided that we'd see several houses that day, so I found another ad with a house that sounded like a possibility, out in the suburbs here. That was listed by an agency. When I went to their office, instead of just sending me to what I semi-randomly picked, the lady interviewed me about what we'd like, and looked up on the computer and made some phone calls, and then she wrote down what she thought would be the best choice for us, and gave us an appointment for 7:30. And, now, the weird thing was that the appointment we first had made was for 7:00, and I realized it was the same address. Out of hundreds of listings, she had picked the very same one I had already called. So it was a bit inescapable.

Aside from that, we're having a fine time, but things are sort of up and down. The money is moving a little too quickly (away from me) for my liking. Not that it is all that expensive here, but there are many things to take care of. And then one of our cats disappeared for a day, and had apparently balanced on a narrow ledge, five stories up, and made it around to a room on the other side of the building. Today I set fire to our printer, which we had dragged with us in a suitcase. I thought I had put the power through the right kind of transformer, but the smoke said otherwise.

If I hear yes on the house tomorrow, we'll drive to Denmark and hang out with family for a few days until we can move in on the first. Might as well.