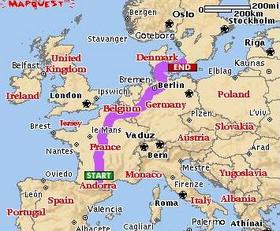 by Flemming Funch

So, we drove to Denmark for a few days. Mostly a good idea. Except for that it is 2000km. Made it on two tanks of diesel, so that wasn't the worst part. But that is a whole lot of driving. Through France and Belgium we could do an average of 150km/hour, and the French speaking people are very good at making that possible, letting one by, and getting into the slower lanes when one isn't going fast. The Germans and Danes seem less cooperative, so that took a good deal longer. And it took 1.5 hours just to get past Paris. Traffic there was like L.A. in rush hour.

The French auto routes are wide open and with few people on them. But they're mostly pay roads, so going through France cost as much in toll as it does in gas.

But now, the less fun problems started when the car broke down in Hamburg, Germany at 3AM in the night. The clutch on the rented Ford Mondeo decided to function less and less and eventually the car just wouldn't move. And we were in some dead neighborhood next to the harbor. Our first thought was then to find a hotel and spend the night and deal with it in the morning. But a taxi driver, after checking with his office, informed us that there were no available hotel rooms to find. Then we realized that there was an emergency number for Budget in France, to call if one has trouble with the car. I called it, and they informed me they'd send a mechanic from Ford within an hour, to fix the car. Which sounded great, and I started fantasizing about a helicopter landing with a new clutch. But, not exactly. 1.5 hours later a tow truck showed up, with a driver who only spoke German, and who's instructions were to take the car away. Which would sort of leave us with a lot of luggage, a sleeping kid, and two cats, in the rain on a sidewalk in Hamburg in the middle of the night. Further calls to Budget, and promises to find a solution for us, weren't very productive. I had to stand and discuss things with the tow truck driver while waiting for them to call back. My German surprisingly seemed to be sufficient to get by. Eventually we decided on letting the guy take the car away, taking a cab to the airport, and waiting for the Budget office there to open in the morning. Which we did. So, after a few hours of drinking coffee in the airport, still another string of obstacles as the German and French Budget guys couldn't quite agree on what to do. Ultimately we got the German guy persuaded to just give us another car, big enough for our stuff, and forget about what the French guys wanted to do, which would have taken longer. And off we went again. Ended up taking about 30 hours to get here.

So, after a long sleep, a shower, breakfast at my moms, and being plugged into her DSL connection, things are cool. Of course we need to go back in a couple of days, but we'll probably be better prepared.

There's something nice about tracking the road over land from our new home in Toulouse back to our roots and our home till 20 years ago in Copenhagen. It gives a more tangible sense of where things actually are, compared with jumping around in planes.