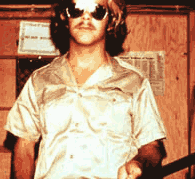 by Flemming Funch

I had certainly heard about it before, but I didn't realize there were a website before Seb mentioned it. The Stanford Prison Experiment in 1971 is one of the more enlightening and frightening demonstrations of how easily humans accept a fake reality as real, and act accordingly. College students volunteered to the experiment of acting as prisoners and prison guards in a two week experiment. The experiment had to be stopped after six days because it became way too real. 'Guards' turned into sadistic slave masters, 'prisoners' accepted their humiliations and had psychological breakdowns. Even the 'prisoners' parents, outside helpers like priests and lawyers, and even the psychologists running the experiment - all started treating it as reality and acting accordingly. The experiment was stopped because it was going so far that there was fear of people's health and sanity. But also because, for the first time, somebody walked in (another psychologist) and said "Hey, you have to stop this, you can't treat people like this". Until then everybody, including around 50 outsiders, had just gone along with it, and adopted the premises of the situation, even though they all knew that they weren't 'real'.
Less than 36 hours into the experiment, Prisoner #8612 began suffering from acute emotional disturbance, disorganized thinking, uncontrollable crying, and rage. In spite of all of this, we had already come to think so much like prison authorities that we thought he was trying to "con" us -- to fool us into releasing him.

When our primary prison consultant interviewed Prisoner #8612, the consultant chided him for being so weak, and told him what kind of abuse he could expect from the guards and the prisoners if he were in San Quentin Prison. #8612 was then given the offer of becoming an informant in exchange for no further guard harassment. He was told to think it over.

During the next count, Prisoner #8612 told other prisoners, "You can't leave. You can't quit." That sent a chilling message and heightened their sense of really being imprisoned. #8612 then began to act "crazy," to scream, to curse, to go into a rage that seemed out of control. It took quite a while before we became convinced that he was really suffering and that we had to release him.
This is all rather horrible stuff, but very illuminating about our human tendency to be 'normal' and do what we think the circumstances demand of us. The experience of those volunteer prisoners in 1971 is, unfortunately, also very comparable to the experience that millions of real prisoners go through. And nobody's going to walk by and stop that experiment because it isn't right to treat people that way. Two million people are in prison in the United States.

Ironically, it was less than a month after the Stanford experiment, that the infamous riot broke out in Attica Prison in New York. The prisoners were demanding basic human rights. Instead New York's governor, Nelson Rockefeller, sent in the National Guard to take the prison by force and many guards and prisoners were killed.