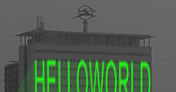 by Flemming Funch

Mentioned on SmartMobs, the helloworld project, running today through Saturday, during the UN Summit on the Information Society, lets people send in SMS messages that will be projected in a large way for all to see.
Messages will be projected almost instantly by a laser beam on mountains and buildings in Mumbai (Marine Drive), Rio de Janeiro (Ipanema Beach), New York (UN building) and lake Geneva's "Jet d'eau"(water fountain).

Message jockeys (editors based at swissinfo) will view the incoming messages in Arabic, Chinese, English, French, Hindi, Portuguese, and Spanish and pass them on within seconds to the projectors. Commercial, sexist or racist messages, or those containing personal insults will not be projected. A message archive will store all the sent messages.
You can see an archive of the messages so far here. And go and send your own. ... Hm, seems a bit overloaded to project the messages I tried, but they showed on their site at least.