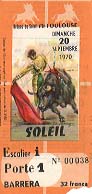 by Flemming Funch

The area of Toulouse we live in is called Arènes. We didn't think much about why, other than that the local metro station is also called Arènes, and it and the high school next to it are sort of shaped in an arena motif.

So I just now realize that it was because, quite recently, it was the site of a large bullfighting arena. From 1953-1976 this was Arènes du Soleil d'Or, one of the largest bullfighting arenas there has been in France, with room for 14,000 people. Famous torreadors like Paco Camino and El Cordobes have busied themselves fighting bulls to the death (the bull's) there.

I'm not sure I like bullfighting at all. But nowadays I believe it is mainly done in a non-lethal format the places it still happens in France. And this arena was torn down in 1990 to give way for the school and train station that is there now.