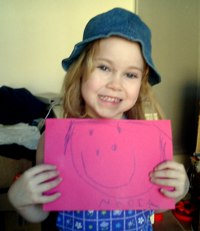 by Flemming Funch

What to do with the kids and school has been one of the things worrying me a good deal about being in France. There's the language issue, and the difficulty just figuring out how things work here. I haven't even gathered the guts yet to go and apply for our Carte de Sejour (residency permit) here. And French education is considered hard, of a totally different level than the U.S., so there's a question of how they'll adjust. But, as with many other things, when you actually go and do it, and you incidentally run into the right people, things tend to work out.

Little Nadia has since the last month been in École Maternelle. Preschool. When we finally had located a suitable school close by, and managed to show up at the right time, when there wasn't a holiday, there really was no problem signing her up. And they're super-nice to her. A couple of days of crying a bit at first when we left her behind, but she quickly learned to enjoy it. It is in French, obviously, but that doesn't seem to be any kind of problem. Only hard part is us bringing her and picking her up. They have a two hour lunch break in the middle of the day, and unless both her parents were away at work, which we obviously aren't, we'll have to pick her up and bring her back. So, we're talking 4 bicycle trips a day, the 1.5km to the school. Good exercise, and it isn't raining all that often.

As to Zachery, well, he's 17 and the initial plan was that he would finish his U.S. highschool remotely through a home schooling arrangement where he would e-mail homework and otherwise study on his own. Which hasn't been going overly well. So we decided to explore integrating him into the French system now rather than later. Which is certainly not the perfect time to jump into a totally different system, but it might be the best to struggle through it. We spoke first with the British section of the International Lycée de Toulouse, which is all in English and follows the British school system. They didn't think it was a good idea, and that if he at all spoke any French, it would be better with a regular French lycée (highschool). So, we picked the closest one, just down the street, Lycée des Arènes, a big new modern building by the Metro station. And when we went there yesterday, and I was standing trying to explain our situation to the receptionist, who wasn't overly cooperative, it just turned out that next to us a lady overheard our conversation and decided to assist us. And she was nothing less than the Inspector General of English education for all of France, who incidentally was in town. And, first of all she of course spoke perfect English, which made it a little easier to get started. She gave us the general scenario, and told us this was one of the best schools in Toulouse. And she arranged a meeting for us with the principal and laid it all out for him for us. And today Zachery and I went and met him, and the short and the long of it is that he starts after christmas, and we'll work out the details then. And after a month we'll see how well he survives. There are other foreign students there who speak less French than him, so it is possible. And we suspect that he knows more than he's easily willing to admit. Anyway, we're hopeful it will work.

Marie-Therese is 20 and doesn't entirely know what she wants. But pursuing an education as a French chef has probably the best pull on her here. So we're trying to figure that out. Took a little while to even figure out what kind of schools that goes on in, and what diplomas one would get, etc. Turns out it is a specialization within the hotel and restaurant educations. And it would be pretty hard work. Anyway, we were in an employment agency that had a focus day on that business, and got some more hints, and a guy who saw us there we later ran into in the bus somewhere else in town. Turns out his dream is to move to the U.S., but that he actually attended the closest hotel and restaurant school, which is also walking distance from us. And he'll take Marie-Therese there and show her around and introduce her to the people who run it.

Strange thing how most things here don't quite happen before you coincidentally run into just the right person who'll go out of their way help you out. One can't take it for granted, but it is heartwarming each time it happens.