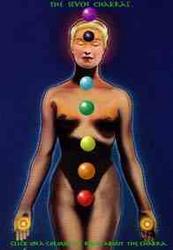 by Flemming Funch

I have meditated. I've done Tai Chi, Qi Gong, Kung Fu, DahnHak, Pranic Healing, Tensegrity and Access. I've been healed, acupuncturized, massaged, rebirthed, exorcised and hypnotized. I've done the Scientology advanced levels. I'm an NLP master. A Certified Clinical Hypnotherapist. I'm an energetic healer. I've seen hundreds of past lives. I have had out-of-body experiences, I've done astral traveling. I've been abducted by little grey aliens. I've talked with dead people. I've met my future selves. I've channeled, done automatic writing and psychic readings. I've seen the beginning of the universe, and the end. I've bent spoons and walked on burning coals. I've watched UFOs over Area 51. I've seen shamans and psychics and channelers. I've gotten all my questions answered. I came from Arcturus and I spent some time in the Orion Empire. I've talked to crystals, gotten aromatherapy, ayurvedics, color therapy. I only use holistic health care: naturopatics, homeopathy, herbs, oriental medicine. My DNA is supposedly evolving to 12 strands and I'm well on my way into the 5th dimension. I've gone to hundreds of rituals and danced, chanted, drummed and prayed. I've gone to sacred sites, feng shuied my house. I've gotten my horoscope analyzed many times, my numerology has been done, my palms read. The tarot has given me valuable insights, and I know what shape my chakras are in. And there's probably a lot more I'm forgetting.

Now, to a New Age person all of that is rather normal. Not even particularly impressive. Most people who've followed some kind of metaphysical, spiritual, new age type of path for a number of years will have done a lot of this, and a lot of other things I didn't happen to run into.

And what is cool is that if I recognize somebody else as what can be loosely identified as a New Age Person, we can talk about any of this, and they will most likely not have any reservation about sharing experiences and insights. I don't have to prove anything, and it won't even be an issue. They will measure the truth by what it feels like.

But yet I'm also a bit tired of the New Age. Oh, I'll happily talk about any of this, and tell you what I think worked or didn't work, and why and how. And I enjoyed all of it. But my perspective has changed somewhat. I'm more focused on ordinary everyday life. I'm more skeptical. I'm more interested in keeping a little bit of a distance to the multiple possible explanations for why things are the way they are. I'm interested in bridging different realities and world views. While I live the life that is in front of me. Which is often quite ordinary, sometimes hard, and usually not particularly fantastic.

The New Age became a little too mainstream at some point. Where before it was a bit of an underground activity, pursuing experiences and wisdom out of the ordinary, where the rest of the world was really rigid, limited and analytical. But somehow it became something more watered-down, commonplace, lacking distinctions. So that New Age for many became synonymous with flakyness and lack of critical thinking. Or it became synomynous with "anything goes" and that any weird idea or practice is equally valid as any other. And it all became a good deal less useful. So, personally, I will continue to stretch the boundaries of my existence, and I will continue to choose the tools in my life that work, even if others think they're strange. But I'll probably evaluate things one at a time, and certainly avoid assuming that I'm part of a group that all shares the same views.

Life is a rather fantastic thing in the first place. Full of experiences and possibilities and insights. They might be small or large, deep or shallow. But you don't really need to invoke any fancy belief system to talk about it. The experiences and what you think and feel about them might be enough. And of course you can notice the patterns that link things together. But part of my different perspective is that I try to avoid having all the answers in advance, and rather keeping my mind open to the newness of things.

Now, as I write here in my blog, my new agey friends, or friends from specific metaphysical traditions, might well be puzzled that I wrap things up more than they would expect me to under other circumstances. I.e. I write a lot more conservatively and tentatively than I might otherwise. Referring sort of distantly to news items and books with interesting but theoretical subjects. Where I could just as well provide the straight dope. It is just that I don't necessarily think the dope is quite so straight as it might have seemed. And I no longer claim to know exactly what it is.

And then my more 'normal' friends might be puzzled that I sometimes write about strange hocus-pocus subjects. Borderland weirdness, unproven pseudo-science, conspiracy theories and general superstition. And I might well lose some of them, if they expect that I should just write about RSS Aggregators and blog programming. But I guess I can live with that.

I write about whatever I feel like. But my compromise is that I try to write so that multiple types of audiences might read it. I do believe it is possible to both be authentic and well-balanced.

So I both attempt to write about things I feel the urge to write about, whether it is likely to be generally accepted or not. But I also try to frame what I say in such a way that it might better be understood by more people, and so that I reasonably well can stand behind what I say.

I guess what I'm trying to explain is why I'm writing less new agey than you'd expect. Or more new agey than you'd expect. Depending on who you are. I believe in what I've experienced, what works for me personally, what makes sense, and what I can defend logically. And I keep an open mind to adopting something new that comes along if it proves to work better, or reject it if it doesn't. For some that will mean I'll believe in some outrageous things. For others that my views are pretty tame.