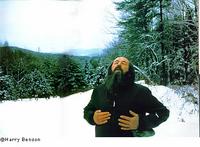 by Flemming Funch

The Green Man:
"It is easier to have freedom of thought in a concentration camp than in America today."

"So said Aleksandr Solzhenitsyn. In 1970 he won the Nobel Prize for literature and is the author of a number of books that are insightful, both on the nature of the Russian political system and of the human psyche when placed in situations of extreme hardship. In 1974 he fled Russian persecution for the land of the free and the home of the brave. To his astonishment he discovered a land where freedom of thought was no greater than in Russia. There was a difference only in the nature of the restrictions on his freedom of thought not on the extent. Of course the natural response is to say "like it or leave it", that is, if he thinks it is so crook then leave (which is actually what he did, returning to his native Russia after the fall of communism.) Our friends, however, are not the ones that tell us what we want to hear, but those who tell us what we need to hear.

He made this statement many years ago. It is interesting to consider whether it is more or less appropriate today. Are we more or less able to question the behaviour of our country's respective leaders without being labelled UnAmerican/UnAustralian."
It is, unfortunately, even more appropriate today. Despite what many Americans would like to think, it was rather easier to think for yourself in a communist country. It would be much more clear what is government propaganda and what is your own thoughts.